Home Issues


Avert commercialization of Vesak
By Quintus Perera, Asian Tribune, May 21, 2008
Colombo, Sri Lanka -- As in the case of Sinhala and Hindu New Year or even Christmas, Vesak too every year comes and goes. But in the Buddhist thinking establishment of Buddha Dhamma through the teaching of Lord Buddha is the greatest thing that has happened to mankind.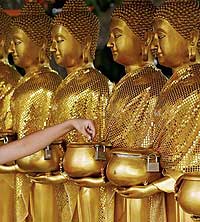 << A girl putting money into "alms bowl" donation boxes. Is Vesak being "over commercialised"?

Vesak Poya Day is a thrice blessed day which marks the birth, enlightenment and Maha Parinibbana of Lord Buddha. Buddhist devotees mark this day by going to the temple, meditating and observing Sil. They also fly the Buddhist flag and decorate their houses with lanterns and recite Bhakthi Gee.

However according to great scholastic Buddhist monks, the significance of Vesak runs far deeper.

Vesak with its piety and glitter is the day on which people get the opportunity to reflect upon the great teachings of Lord Gauthama Buddha Yet, like Christmas, this great day invariably almost fully belongs to the bumble innocent little ones – radiating their peaceful calm and pious thoughts.

Small children, particularly in the villages eagerly await the dawn of Vesak as that is the day their hearts glow with joy, happiness and piety.

They cut bamboo trees, chip and chop them into uniform pieces, tie them together to make an eight-sided structure and cover the structure with multi-coloured tissue paper, while the top and bottom are left open and strips and streamers of tissue paper are pasted to the bottom of the Vesak Lantern. There are large ones and small ones and they are connected together and hung up in tree and in high places for others to see. In some of these villages where there is no electricity, these little ones light them with candles.

The sad part is that in some Vesak days there is rain and as these Vesak Lanterns are covered with tissue papers and if they get caught to rain, rain will wash all the tissue papers and then only the bamboo structure would be left. To avoid this, these little ones would be on constant vigil and as these Lanterns are hung with a rope, the moment there is rain; the lanterns are lowered and removed to cover.

The happiest moment in their hearts could be when the lanterns glitter magnificently in the Vesak night.

Vesak portrays the total concept of Buddhism – the birth, attaining Buddha-hood and Maha Parinirvana of Lord Buddha on a single day.

Ven Mahagalkadawala Punyasara Thero, Sathkorale Maha Dissawe Uppapradhana Sangha Nayake and International affairs Co-coordinator, World Peace and Solidarity Forum, speaking to Asian Tribune said that Buddhism is not a weapon of anarchy and annihilation, but precisely a way of life as living according to the Cherished Buddhist precepts, enlighten and open up the hearts for peace and piety of life as His message has been for all beings to be rid of sorrows, to be rid of disease and to be healthy – essential components for a full life.

On a note whether Buddhism could be used for religious sacrilege or to defend racism Ven Punyasara Thero said Vesak denotes the triple events of Lord Buddha and all Buddhists on that day must pay homage by adhering to His words with piety, meditation and offering various kinds of dana – alms to their fellowmen and specially for those in need of help.

In the past Buddhists have devoted the total day for religious activities and offerings dana, in deep solemnity and calm. But he said it is rather very unfortunate that with the change of time, instead of devoting the day for religious activities, some people are caught up with 'vivid pleasure activities', turning the Vesak day into carnival atmosphere.

Now Vesak is desecrated with vulgarity by performing various types of dramas, musical shows and Olu Bakko dances and the entire pious, sober atmosphere are lost. Ven Thero said that youth wearing all types of funny costumes block, prevent and sometimes even cast vulgar remarks on devotees, especially at girls viewing sandals and other decorations at night. There are also innumerable occasions those rude urchins attempting to molest females.

He said that Vesak denotes all good things, peace and the day should be marked to resolve to be rid of all conflicts, whether they are religious, racial, ethnic or domestic as Buddhist teachings reflect on all the people live together with peace, harmony, piety and tranquility. Lord Buddha did not mean any differentiation in his great preaching among races, religions or among difference ethnic groups and peace and harmony among all peoples has been the ideals prominent in the Buddha word.

Ven Thero said that Lord Buddha appreciated all religions, but it is pathetic that in today's world, most of the conflicts the centerpiece could be religious or racial hatred. Buddhist precepts have to be used for the benefit of all beings in this world as well as in other worlds. It is sad, if these great teachings are to be used for the destruction of the same people and those perpetrators could be seen as more criminal than religious.

All events in Sri Lanka are either politicized or commercialized and the common phenomena everywhere have been that festivities catch up with commercialization. Take Christmas, take Valentine's Day or Sinhala and Hindu New Year, it is the merchant who has capitalized in all these festivities.

But it would be rather pathetic that Vesak, which has been saved from the evil atmosphere is now gradually turning unethical merchandising. Ven Punyasara Thero pointed out that on the pretext of observing Vesak, certain activities connected to Vesak is actually becoming frauds, and even small children are dragged into these frauds.

In certain instances electing sandals, certain groups get together and collect money and the Ven Thero pointed out that they are at occasions have become big frauds. On the pretext of various activities connected to Vesak various groups collect money and now there are groups of children going round and collecting money saying that they are organizing bread Damsela, or Sweet Drinks Damsela etc, and as there is no supervision or monitoring, these children tend to play out as they would use only half the funds collected and they could swindle the other half.

Another way of charging the Vesak viewers has been the charging various amounts to view enclosed Vesak Lanterns. Ven Punyasara said that there is no way that anybody is warranted to collect money to perform any activity for the glory of Lord Buddha and all dana pinkama should have to be by the funds of the organizers themselves.

He said that it is quite unethical for anybody to charge on the pretext of performing any activity connected to Vesak. Thus, anyone feels that his work of art or craftsmanship on Vesak activity (such as Vesak Lanterns) should show to the public, it should have to be shown free of charge, like the Rice Damsela or Bread Damsala.

He said that enforcing laws on these matters would not help anyway. Buddhists themselves should get together and prevent all these negative activities perpetrate during Vesak. He said that Buddhist devotees should prevent the fast commercializing of Vesak. These frauds could t some extent be prevented if all the activities connected to Vesak could be channeled through Buddhist Temples and Viharas with the blessings of the Incumbent Buddhist Monks in these Temples and Viharas. It would be ideal if the Vesak pendals are elected within Buddhist Temple premises and Damsels too to be provided in these temples, so that these temples and viharas could maintain a certain semblance of piety and solemnity and reflect the true meaning of Vesak.

He said that great noise made on Vesak should be desisted as Lord Buddha expected calm atmosphere for meditation.

Ven Thero said that Vesak could be an ideal vehicle to drive peace moves in the country. He said during Vesak even rival animals get together and it is an ideal opportunity to shed differences to establish in the country.

He said that the world today is passing a great revolutionary period and the people are marching forward to achieve development, but in all that they must not forget the human element that should carry in all their activities. People must act in unity to achieve their goals. They should not feel self-possessive and work in disunity.

He pointed out that peace is the need of the hours and helping each other is essential in the march towards the 21st century and Buddhism provides all the ingredients for this forward march, as with human touch, piety, kindness and love all ills of this world could also eliminated.

Therefore, the total mankind must desist all elements of division of people and relentlessly work for unity among all peoples. Therefore, Buddhism cannot be conjured to be partisan to ethnic or religious conflicts. It has been the universal effect and equality to all mankind.

Ven Punyasara Thero said that this great religion has nothing to do with weapons of destruction. Weapons are there to destroy people. A religion that preaches compassion can no way resort to create descent among people.