Home Issues


South Korea: Who's Really to Blame for Religious Bias?
Chosun Ilbo, Aug 31, 2008
Seoul, South Korea -- The Ministry of Public Administration and Security says it will offer classes to all public servants on how to avoid religious bias. From September, they will be trained in how to avoid religious bias in their daily work with classes being offered in regular monthly addresses to staff at central and provincial governments and during special education hours.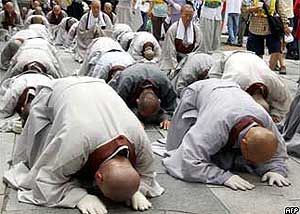 And starting next year, classes in religious neutrality will be mandatory.

A few days ago, Minister of Culture, Sports and Tourism Yu In-chon announced that he intends to pursue the passage of a law to prevent religious bias and would set up regulations banning such bias and to punish public servants who break the rules. He also vowed to include programs on religious neutrality in training for public servants. With Buddhists demanding regulations to prevent religious bias among government officials, the government has chosen frontline public servants as the first to be scolded.

But the government's "religious bias," as cited by Buddhists, is not due to the behavior of low-level public servants, but from the words and actions of senior officials. Buddhists suspect that religious preferences played a large role in the selection of many high-ranking officials.

One man who used to be a pastor was appointed as a presidential secretary and went on to compare protesters to "Satan's minions." The president personally attends or sends videotaped messages of congratulation to evangelical events. But Buddhists say a presidential message of congratulation either arrived late on the Buddha's Birthday or a ward official delivered the leader's offerings instead.

There were several incidents that incited the Buddhist community. For instance, a large poster advertising an evangelical rally for police held by a large church displayed the police commissioner's picture and was posted on the walls of police stations across the country. Also provoking the Buddhist community, the chief of presidential security said his dream was to spread "Christianity" through all of the government's branches. These incidents did not happen because of the mistakes of rank-and-file officials.

The educational programs to prevent religious bias among public servants must seem to Buddhists and the government workers who will have to endure them as a preposterous game of pass-the-buck. It also shows that the government is still not taking the situation seriously. To calm seething discontent among Buddhists and resolve the situation quickly, the government should take measures to deal with the fundamental causes of the problem.