Home Issues


Tibetans plot future after Dalai Lama admits failure
AFP, November 18, 2008
Dharmsala, China -- Leading Tibetan exiles were set to meet in India on Monday for a week of discussions that could usher in a more radical approach to their long struggle against Chinese rule in Tibet.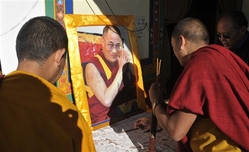 The Dalai Lama, Tibet's spiritual leader, called the meeting after admitting that his attempts to secure greater autonomy for the region through negotiation with the Chinese government had failed.

Before the talks began, he urged the 500 participants to consider all aspects of policy regarding China -- ensuring that the thorny issue of whether to push for full independence would be tackled.

The meeting should air "the real opinions and views of the Tibetan people through free and frank discussions," said the Dalai Lama, who has recently expressed uncharacteristic frustration over failing to win concessions from Beijing.

Many exiles feel that his campaign for "meaningful autonomy" for Tibet -- which he fled in 1959 following a failed uprising against Chinese rule -- should now be replaced by a more aggressive pro-independence stance.

"We certainly hope the cause of independence for Tibet is stronger by the end of the week," said Tsewang Rigzin, president of the influential Tibetan Youth Congress.

"I was a bit surprised when the Dalai Lama called this meeting," Rigzin admitted to AFP. "But it was high time. As he says, he has done everything in his power and not made progress."

The Dalai Lama, speaking earlier this month in Japan, said he accepted that his "middle path" approach had been exhausted, and that there was now "no other alternative than to ask people" about how to proceed.

Tenzin Bayul, one of the delegates gathered at the exiles' base in the northern Indian hill town of Dharamshala, said she felt it was a moment of historic importance.

"Non-violence is central to our culture, but frustration is strong among young Tibetans and people get very angry about the lack of success," said Bayul, a 28-year-old activist studying at Tufts University in Boston.

"This situation has gone on for so long, and the Dalai Lama is tired."

The meeting has no policy-making power -- any recommendations would require the approval of the exiled Tibetan parliament -- but it comes as the Tibetan movement braces for change.

One looming issue is the health of the Dalai Lama, 73, who had to cancel trips abroad after being hospitalised in August and undergoing gallstone surgery last month.

He has since returned to his gruelling schedule, and still commands huge respect from Tibetans and supporters around the world, but he now describes himself as semi-retired.

The meeting will also discuss current conditions in restive Tibet.

In March, protests against Chinese rule in the capital, Lhasa, erupted into violence which spread to other areas of western China with Tibetan populations.

Tibet's government-in-exile said more than 200 Tibetans were killed in the subsequent Chinese crackdown.

The clashes were cited by some Tibetans as proof that a new, and more radical, strategy was needed.

But any such policy shift could divide the Tibetan movement and see much of its international support seep away.

A Chinese government spokesman earlier dismissed the meeting, saying that such "separatist attempts will get nowhere."

The Dalai Lama will not attend the meeting in an attempt to ensure that any decisions are independent of his own views, officials say.