Home Issues


Karmapa facing exile within exile
by Anamika Sarma, North India Times, July 27, 2009
New Delhi, India -- Ugyen Trinley Dorjee, the 17th Karmapa has been living as an exile within an exile from quite some time. His activities have been on the radar of security agencies ever since he was granted asylum in Dharamshala in January 2000.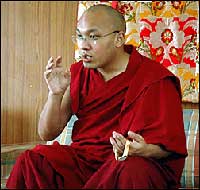 Karmapa's activities which were earlier confined to a radius of 15 kilometres (between Dalai Lama's residence to Sidhbari where Karmapa resides) have reportedly been tightened further. He cannot even see Dalai Lama easily. If the sources are to be believed, Karmapa's three requests to meet Dalai Lama were rejected by the Indian security agencies.

"On 25th of July (Saturday last) Karmapa was only given 30 minutes to see Dalai Lama. Earlier three requests made by him to see the spiritual
Leader were turned down by the authorities ," sources close to Dalai Lama said.

In July last (2008) Indian government had refused to allow Karmapa to visit various monasteries in Himachal Pradesh and Jammu and Kashmir states. These Monasteries are situated close to China borders.

Karmapa has also been banned from travelling abroad by the Indian government. He made his first trip to the United States in 2008, including visits to
New York and San Francisco. The trip was seen by Tibetans and security agencies as an attempt to raise his international profile. In fact , Karmapa is still being looked with an eye of suspicion. Sources said Karmapa was escorted by a group of four people till 2006 who were removed after the security agencies objected.

Not only this , a multi crore religious structure which the Karmapa Lama reportedly started on a huge land site ( 600 kanals ) in Kotla , 42 kms from Dharamshala had also come under scanner one month back when the Income Tax department and security agencies had questioned the souce of funding. The matter was also reported to the Ministry of External affairs which later stopped the construction of this structure. Atul Phulzhele , The superintendent of Police, Kangra refused to speak on the issue and said that the matter belongs to the Ministry of External affairs.

"I am not aware and not supposed to speak on karmapa issue," Atul Phulzehele said.

The buck does not stop here, a couple of months ago the Z plus security cover was also withdrawn from karmapa. Now in place of 24 security personnel , he is guarded by a single police constable .

Sources said, Karmapa is keen to visit USA again but the Indian authorities are not ready to budge. Twenty three year old Ugyen Trinley Dorjee , who took refuse in Dharamshala in January 2000 , is the leader of the Kagyu sect, one of the four main schools of Tibetan Buddhism. The followers of Kagyu sect are believed to be richest among all Tibetans.

The Dalai Lama is the head of the Gelug sect. Karmapa's followers often tip him as Dalai lama's successor but his sect is a major hindrance . If the Indian authorities did not allow him to visit abroad, the Karmapa will have to spend his remaining life in Sidhbari , sources said .