Home Issues


Calls to remove Buddhist statue from Bridge on the River Kwai
By Ian MacKinnon, The Telegraph, 31 Aug 2009
The Bridge on the River Kwai – the monument to the suffering of Allied troops in Japanese hands – has been overshadowed by a controversial new Buddhist statue
Bangkok, Thailand -- A 55ft statue of Guanyin, the goddess of mercy, has been built next to the bridge as part of a religious retreat.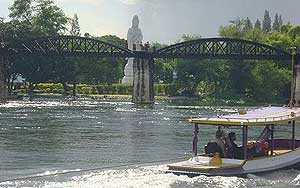 << Kwai Bridge with Goddess of Mercy statue in the background Photo: Ian MacKinnon

Local conservationists described it as "visual pollution", saying that it endangered the symbolism of the site, which is in the western Thai town of Kanchanaburi.

The bridge symbolises the 258-mile Death Railway that claimed the lives of more than 12,000 British, Australian and Dutch prisoners of war.

"This destroys the cultural landscape of the bridge, which will be devalued because of it," said Apinya Baggelaar Arrunnapporn, an expert on the history of the Death Railway. "We must take care of this because it reminds us of a shameful past. This development is culturally, morally and ethically inappropriate."

Following objections from conservationists and residents of Kanchanaburi, the province's governor has set up a committee to review the scale of the building work and its legality.

In June last year a Buddhist foundation that owned land next to the bridge was given permission to build a statue and a single building but three were being built.

Veerapan Maleipan, an archaeologist and a member of the committee set up to review the complex described the work as "illegal" and "visual pollution".

Some war veterans, however, believe that the site is already so spoiled by souvenir stalls that the new addition will make little difference. "The site is so degraded by vendors there's little you could do to degrade it further," said Rod Beattie, the Australian founder of the Thailand-Burma Railway Centre museum. "But the riverside where the complex is going up was reasonably pristine and now it looks like a fairground. It degrades the area even more."

Arthur Lane, the chairman of the National Ex-Services Association, described the statue as a "monstrosity". "If someone was trying to blow it up and wants contributions, just send them to me."