Home Issues


'Simple Buddhist monk' causes quite a stir
by David Frey, Snowmasssun.com, Feb 23, 2010
Aspen, CO (USA) -- The Dalai Lama calls himself a "simple Buddhist monk," but this simple Buddhist monk creates quite a stir wherever he goes.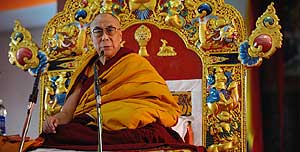 I felt honored to see him speak at the Aspen Institute in 2008, joined by hundreds of my friends and neighbors.

But after the exiled Tibetan leader met with President Barack Obama last week, he enjoyed an intimate little reception hosted by the institute for him and some 40 devotees. It's the sort of up-close-and-personal encounter even his most ardent followers can't hope to achieve. It doesn't hurt to be rich and or famous to get this kind of face time with the simple Buddhist monk. Being Richard Gere, for instance, helps a lot.

Author Pico Iyer asked him about the celebrity status that has come to surround the Dalai Lama. Iyer wrote the book "The Open Road," a sort of biography of the Tibetan leader, and engaged the Dalai Lama in a question-and-answer session at the institute last year. So I engaged Iyer in a question-and-answer session.

"He said at one point, 'you know some people think of me as a celebrity,' and he was totally bewildered by the notion," Iyer told me. "I think that really doesn't feature into the way he thinks about himself. But he said, 'There's nothing I can do about what everyone else says about me except make sure my own motivations are pure and make sure that I treat everybody exactly the same.'"

Iyer says he's seen that himself. When the Dalai Lama walks into the White House, before he shakes hands with the president, he shakes hands with the bodyguards.

"It's a small way of reminding us that we're all really in the same boat," Iyer says.

Iyer's book explores his 30-year relationship with the Dalai Lama. He was introduced to him by his father, who had struck up an unusual friendship with the Tibetan leader when he was a little-known refugee from a kingdom under siege.

Iyer isn't a Buddhist, though. He's a journalist. The former Time correspondent approaches his old acquaintance with a reporter's skepticism. Through it all, though, a certain reverence shines through.

"If you really look hard at somebody you may see shadows or inconsistencies or smudges that make you think a little less of him," Iyer told me. "I would say that the more I look at him, the more I appreciate him. I have a much deeper, much greater appreciation for him now than five years ago, even though at that time I'd already known him for 28 years and written a lot about him. I sort of feel as if I'm just at the beginning of understanding."

The Dalai Lama's appearance in Aspen was a stirring one. Some of his comments were directed specifically at a pair of Chinese professors sitting in the front of the Benedict Music Tent. In his unending quest to engage Beijing in a dialogue on the future of Tibet, he made pointed pleas to them to send the message: let's talk.

But most of his message was directed to the world, about the world. It was the kind of lecture that has made him such a star in much of the world, despite his despised status in China.

"Our basic feeling of self and desire for happiness is the same," he said. "If you look at the world from space, you see one globe. There are no real boundaries. There is too much emphasis on secondary differences – religion, nationality, ethnicity. On a basic level, we are the same. We forget basic humanity."

It's the sort of aphorism that the Dalai Lama is famous for. While some eat up his public teachings like chocolate cake, others see them more like warmed-over chicken soup for the soul.

Don't be fooled, Iyer says. Even the teachings that sound the most basic often have layers upon layers of meaning.

"The longer I spend with him the more I understand," he said, "and the more I understand, the more I see the depth of how much lies beneath what he translates into very accessible human terms."

The Dalai Lama has mastered this to such a degree that he seems to have become the keeper of the world's soul. From Tiger Woods to Haiti, we seem to want his opinion – or at least Larry King seems to want his opinion – on just about everything that affects us.

"The real source of peace is inner peace," the Dalai Lama tells King. OK, so maybe Shaun White, who appeared on the show after him, could have come up with the same tidbit, but somehow, coming from the Dalai Lama, it holds greater resonance.

Write to David Frey via his Web site, www.davidfrey.me.