Home Issues


International Buddhist College flooded, appeals for humanitarian help
The Buddhist Channel, Nov 6, 2010
Heavy monsoon rains are flooding large swathe of South East Asia, and the International Buddhist College based in Southern Thailand is being hit bad
Songkla, Thailand -- The north eastern provinces of Thailand have been experiencing very bad flooding recently. Pak Thong Chai town where the International Buddhist College (IBC) campus is situated was the first town to be hit by flood waters. The IBC campus itself was flooded, with the dinning hall under 7 feet of water.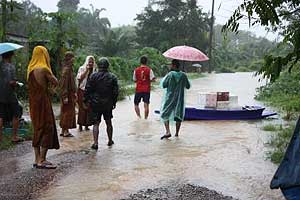 << Monks helping out villagers effected by serious floodings in Southern Thailand
The rain has stopped but the big cleanup has begun and will probably take weeks to do so. Many flood victims are in need of help and people from outside of Pak Thong Chai town are arriving daily to assist in the relief work.
IBC staff and students are participating in the relief work for the flood victims. Monks from Than Hsiang Buddhist organization have also joined the the staff and students yesterday morning delivering rice, drinking water and money to more than 100 poor families in a few villages not far from IBC campus.
The relief work for flood victims had been a very good educational experience for them. All these students are cleaning up their own dwelling places.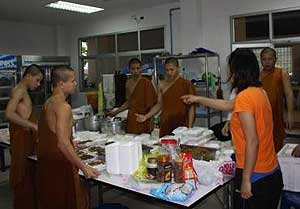 Monks helping out villagers with food deliveries >>
The Klintiandharm (Than Hsiang) Foundation have provided 1,000,000 baht (US$ 33,000) for the relief work over the past one week. A local resident said that the last time Pak Thong Chai had floods was nearly twenty years ago and it was not as bad then as it was now..

The flood situation has apparently also worsened in the southern province of Songkla where the IBC main campus is located.
As it is situated on high grounds and the campus is not affected by the floods there. However, Ven Zhen Yuan have been organizing some food deliveries to the flood victims there. Certain places were inundated up to 6 feet.

For details of the current humanitarian aid effort by the International Buddhist College, please visit the following links:
Fund raising for the humanitarian aid
Ven Wei Wu from the Buddhist organization Than Siang is leading efforts to organize a large scale fund raising campaign to help the flood victims in Thailand and tsunami as well as the volcano victims in Indonesia.
Donors can help their humanitarian effort by purchasing Gold Guan Yin Medallions from the society. The target is to raise RM 300,000 to RM500,000 (US$ 99,000 to US$ 165,000) to help flood victims in Malaysia and Thailand and also tsunami and volcano victims in Indonesia.
For donation details, please visit: http://www.thanhsiang.org/en/content/guan-yin-gold-medallion-launching