Home Issues


Slandering the Karmapa
by Sunanda K Datta-Ray, Deccan Herald, February 9, 2011
Karmapa's office may be guilty of financial mishandling, but to accuse him of being China's agent is unethical.
Dhramsala, India -- What intrigues me about the controversy over the 17th Gyalwa Karmapa, Ogyen Trinley Dorje, is whether home ministry officials suspect him of being a Chinese agent or of financial improprieties. It would be dishonest and dangerous if they are using the latter to imply the former so that he can be replaced by their favourite who is a rival candidate for the title. That trivialises national security to serve a private purpose.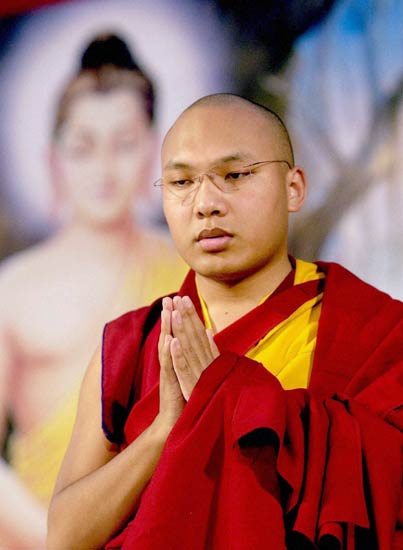 Nar Bahadur Bhandari, Sikkim's former chief minister and present head of the pradesh Congress committee, who is neither Tibetan nor Buddhist but has had considerable experience of smear tactics, strong-arm methods and judicial persecution, says he can 'sniff a conspiracy.' He is not the only one.

There is a contradiction between what officials are supposed to be investigating in Sidhbari where the Karmapa lives and their attempts through anonymously leaked comments to demonise him as China's 'strategic asset' in 'constant touch with the Chinese authorities.' In deploring the resultant 'fiction masquerading as journalism,' the Karmapa's office refrains from saying that journalistic slander follows official thinking.
First, the background. Dorje was a Tibetan child of eight when he was recognised as the incarnation of the 16th Karmapa who had died in 1981. The Chinese authorities accepted his status, and he was crowned at Tsurphu monastery near Lhasa, seat of the Karma Kagyu school of Buddhism.

By the time he was 14, Dorje was disillusioned with the Chinese and fled to India in a dramatic escape that captured the world's imagination. The reasons he gave included pressure to attack the Dalai Lama and cozy up to Beijing's anointed Panchen Lama, regain Rumtek monastery in Sikkim where his predecessor had established a second seat, receive the teachings of gurus who had received them orally from the 16th Karmapa, receive the Dalai Lama's blessings, and spread the Karma Kagyu message abroad like his predecessor.

He could not do that from Tibet. "India, in contrast to communist China, is a free country, a democratic country that is based on the rule of law" he told his followers last week, advising patience because "the truth will become clear in time... There is no need to worry."

The controversy arose when a crore of rupees was found in the possession of two agents of a landlord from whom the Karmapa's office was buying a plot of land for a monastery and residence. The seller wanted cash payment which is legal, and all government departments cleared the purchase. Nevertheless, the discovery prompted several searches of the Sidhbari monastery where the equivalent of about Rs 8 crore was found in some 20 different currencies, including Chinese yuan.

Red-tape

The explanation is that all unsolicited cash donations would have been paid into the Karmapa's Saraswati Charitable Trust if permission to do so had not been withdrawn after the first ,00,000. His Holiness then registered the Karma Garchen Trust but the application to receive foreign donations under the Foreign Contribution (Regulation) Act has been pending since 2002.

Forced to retain donations as they come, the monastery ensures that every penny, cent or yuan (under 10 per cent of the total despite the hullabaloo over Chinese currency) is 'diligently recorded.' It would have been wiser to refuse donations until receiving FCRA sanction but that would have meant waiting forever while the Sidhbari community starved.

It would have made bureaucratic sense if the authorities had invoked the law and prosecuted the Karmapa and his office for this offence. Instead, our shadowy officials embarked on a campaign of slander claiming without a shred of evidence that Chinese SIM cards had been seized and that the Enforcement Directorate held records of conversations between His Holiness and Chinese officials. The media was fed with tales of Beijing financing the Karmapa to buy up land in the sensitive border region to set up a string of 'China study centres' to influence public opinion in favour of China.

Indian Intelligence claims to have always known of this devious long-term stratagem. They also claim to have played along, expecting reciprocal concessions. Instead, China hardened its stand on Kashmir and Arunachal Pradesh, provoking an intelligence officer's outburst, "We have kept quiet for too long!"

India should decide whether it is accusing the Karmapa of financial violations or of being 'a security threat.' The former is a household offence. Atal Behari Vajpayee's famous comment about every parliamentarian starting his legislative career with the lie of a false election return can be repeated every time someone buys or sells a flat or consults a lawyer or even doctor, since both demand cash and neither usually issues receipts.

His office — not the Karmapa himself for he has nothing to do with business matters — may be guilty in that sense but to use that evidence to accuse him of being China's agent is exploiting security concerns for some other purpose.

Judging from media clues, that purpose is to replace him with a rival candidate with an influential and persuasive sponsor. If so, it wastes public money, belittles the national interest and persecutes an innocent youth to serve a private lobby.