Home Issues


'New Chinese law aimed at wiping out Tibetan identity'
by Naresh Kumar Sharma, TNN, Feb 14, 2011
DHARAMSALA, India -- The new Chinese law which would come into effect next month banning reincarnation of the Dalai Lama and other Buddhist monks in Tibet was aimed at wiping out the Tibetan identity and its rich culture, said exiled Tibetan government based here on Monday.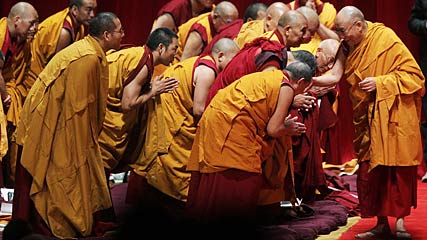 << Buddhist monks in Tibet must now seek permission from Chinese authorities to reincarnate

The new law which stipulates Buddhist monks in Tibet to seek permission from Chinese communist regime for reincarnation has been ironically described by Chinese state administration for religious affairs as an important move to institutionalize management of reincarnation.

However, the de facto Prime Minister of Tibet Samdhong Rinpoche, speaking to TOI said that the new Chinese law coming into effect next month framed to ban reincarnation of Dalai Lama and other Tibetan Lamas was not surprising and unexpected at all. He said that China had been for a long time engaged in working out various methods and formula to finish the two major Tibetan religious institutions-Dalai Lama and Panchen Lama. He said that these two institutions are very important for Tibetans.

He said that the new Chinese law was nothing but a ploy to take control of Tibetan religious institutions. He said that China was perhaps waiting for the departure of the Dalai Lama as it believed that his departure would resolve the problem of Tibet itself.

Rinpoche said that China believes that by choosing its own Dalai Lama as it did in the case of appointing its own Panchen Lama with the new law coming into force would help them to control Tibetans living in various parts of the world including here (Dharamsala) which was not the case at present.

The de facto Prime Minister of Tibet said that it was wishful thinking on the part of Beijing to believe that if the Dalai Lama leaves the scene it would make things easier for it (China) to control the Tibetan struggle and movement for its cause as per its own convenience. He said that the Tibetan issue creates lot of pressure on China at global level, a fact though not accepted by Chinese. He said that Tibetan struggle could not be stymied with one individual (Dalai Lama) not on the scene as it was struggle of a nation.

However, he said that departure of the Dalai Lama would defiantly have a significant bearing on the Tibetan struggle as it could make Tibetans especially youth agitated and could resort to violent means owing to lack of leadership.

About the Karmapa monastery issue, he said that if huge haul of foreign currency including Chinese Yuan had been accumulated illegally must be investigated thoroughly to extract t the truth about it. He said that he believes that Karmapa staff had been responsible for the money found to be kept at monastery in illegal manner. Regarding suspicions being raised about Karmapa being Chinese agent or spy, he said that he (Karmapa) was not so smart and competent to indulge in such sort of activity. When asked that how the Karmapa managed to run away from Tibet (China) in dramatic circumstances in January 2000, Rinpoche said that he (Karmapa) he took advantage of snow while escaping from there.