80/20 Rule for Effective Management
by Goh Seng Chai, The Buddhist Channel, May 12, 2005
How by applying the 80/20 Rule, also known as the Pareto principle, one can get four times more from dedicated Dhamma workers and still keep morale high
Kuala Lumpur, Malaysia -- ?I would like to do it, but work at the office keeps piling up. I?ll get down to it when I am ready.? How many times have we heard phrases like that? In the world of temple administration, words like these seem like permanent echoes bouncing off walls, past or present. Choking on the job when doing Buddhist work, as they say, is as common as leaves growing from trees. That?s true as far as some volunteers go.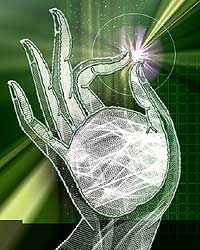 While job chokes should be taken as part and parcel of any organizational existence, it becomes a real problem when the task helmed by the ?choker? is at risk of being derailed. A classic case of a ?choker? was demonstrated in a recent fund raising event. A member of a fund raising committee involved in the development of a major Buddhist temple took 150 tickets for sale to raise funds for a charity dinner. But just three weeks before the dinner event, he returned all but two tickets sold. In the light of such a short notice, can you imagine the kind of pressure felt by the committee in order to meet the specific targets set for the event?
Fortunately, the story to that incident had a happy ending. While many would have just throw their hands up in vain and lament about the sorry situation, the committee decided to take the remaining tickets and redistributed them to a handful of people who had already sold their quota. Without a crisis situation, the re-appointment of the few ?super sellers? would not have materialized. But because of it (the crisis), these people were doubly motivated to help out. By the eve of the dinner, close to 80% of that remaining batch of tickets were sold. And that effort was accomplished in a record time of just less than 20 days, which is about 20% of the total amount of time allocated to sell the tickets for the event.
The moral of the story is this: if we set clear goals and have a touch of level mindedness, there is no need to fear the possibility of any project being held hostage by so called ?key? personnel. When someone says, ?No one is indispensable,? then the maxim should apply even to the person who is purportedly key to the success of the project.
It is a folly to believe that every project needs a so called ?star performer?. It is a folly because in many cases their reputation precedes their actual ability to deliver. In reality, what?s best to have is a small team of dedicated volunteers, who are willing to be team players and willing to back up one another in both good and bad times. These ?regular? folks, who may have limits with regards to their areas of expertise or network of contacts, are in fact integral to the goals and targets set and agreed upon during meetings. If problems do arise, their first instinct would be solving it without letting egos getting in the way.
This then leads us to the crux of the subject at hand: success is not determined by the size of the committee, or the performance of a ?star? personality, but also the ability of a compact team of regular individuals who can adapt, adjust and maneuver through challenging circumstances to meet their intended targets.
If we take the trouble to study many of the progressive models of successful organizations, we notice that they are helmed by such productive, compact groups. Such a compact team (around 3-5 individuals) usually make up only 20% of an organizational committee, but their contribution can measure up to 80% of the organization?s achievements. Not many are aware that by concentrating on core resources, they save time by utilizing productive energy to pursue targeted goals and objectives. It is no point having a bagful of ?star performers? when half the time is spent stroking egos and soothing emotions.
This 80/20 rule, which is also called the Pareto Principle, is a useful reminder to focus on the 20 percent that matters. Of the things that are executed during the day, only 20 percent really matter, but those 20 percent produce 80 percent of the results. The key to the success of any project or endeavor is to identify and focus on those things. When the fire drills of the day begin to sap your time, remind yourself of the 20 percent you need to focus on. If something in the schedule has to slip, if something isn't going to get done, make sure it's not part of that 20 percent.
But how do we actually apply this principle in the day to day management of a centre or organization? To answer this, perhaps it would be apt to take a look at some probable applications.
Total Sunday Dhamma services make up of 20% of the total visitorship to any temple for a given year (others include major events such as Wesak, Kathina etc). This means that if you a regular to the temple, 80% of the people you meet there actually makes up only 20% of the total visitors. Not being aware of this could lead us to be complacent, thinking that ?so many? Buddhists are visiting the temples. By looking at temple attendance in this manner, we can quickly scan the big picture and perhaps initiate steps so that we can establish more activities to engage the rest of the 80% that do not regularly come to the temple.

80% of measurable results and progress of any activities comes from just 20% of the list of events outlined in the temple?s annual calendar. The major problem is that most people are so busy fighting fires that they never get around to the most vital few activities that will lead to the greatest results.

80% of all Dhamma publications are read by only 20% of the Buddhist community. If this is true, then something is seriously wrong because much of the free book publications (sponsored by donors) are going to waste.

Correspondingly, 80% of the publication costs of free Dhamma books are sponsored by 20% of the Buddhist community. If this is true, then publication managers must think if we are over-taxing the same group of people. Is there a way we can spread the burden around?

Roughly 20% of a temple?s activities generate 80% of the annual revenue.

80% of total funds raised to develop a building project for a temple are borne by 20% of devotees. Again, as above, are we over taxing the same group of people? What happens if a few projects are being developed concurrently and only this group of 20% is involved? Spreading the net over thin resources will reduce effective funding, thus impeding future project developments.

80% of the vihara?s weekly activities are Dhamma-centred (i.e. Dhamma talks, sutta studies, meditation, dana etc), and administered by 20% of the organization?s committee members. If that is the case, are we catering to a narrow segment of the community? By focusing only on such activities, will the vihara be attractive enough to draw in the youth, which are the life-blood of the future? On another aspect, since these activities are helmed by only 20% of the temple committee, is it a reflection of the monopoly of this group over the management of the vihara?

80% of decisions by any group of committee members come from 20% of meeting time. If this is the case, is there a way to make meetings more productive?

80% of all complaints come from the same 20% of people
As you can see, this simple 80/20 rule fairly quickly allows one to have a snapshot of the way affairs are managed in an organization. While the rule may not be appropriate as a tool to resolve issues because of its lack in details, it does help to focus our attention on re-evaluating our priorities. More importantly, it serves as a continual reminder to focus 80 percent of our effort on the 20 percent of the tasks that matters the most. Many temple or centre administrators forget this simple advice.
When a committee is given a task to complete something, the vision of the immediate goal is to see how much visibility the project gains. Seldom do they evaluate how the project has benefited the individuals within the committee - spiritually, morally and socially. It is sad that while projects are being completed ?successfully?, many who contributed towards its success shy away from participating in the next because of the personal and morale troubles they encounter.
By understanding our priorities and knowing how to get the best out of minimal resources, we can reduce such dissatisfaction. After all, while good volunteers are difficult to come by, good Buddhist volunteers are even rarer. We must endeavor to work smart and utilize resources in the most productive way so that contributors feel personally satisfied with their effort, while helping the organization meet their goals.
To achieve this, the advice is fairly simple: Identify those 20 percent that produces 80 percent of the results. Those 20% are the vital few tasks that will maximize returns on investment, be it for the individual or the organization. Nothing too difficult to understand, but implementing it will make a world of difference.
-------------------------------


Goh Seng Chai is currently a member of the Executive Council of the World Fellowship of Buddhists (WFB). He is also the President of the World Fellowship of Buddhists ? Selangor Regional Centre. Mr Goh has over 40 years of experience in administrating Buddhist activities. He was the Organizing Secretary for the General Assembly of Blessings for Tsunami Victims.