Time to Stamp out Hate-Speech
By THE IRRAWADDY, January 22, 2015
Yangon, Myanmar -- Wirathu is in the news again. But this time, even some of his followers feel that the nationalist Buddhist monk went too far when he called a visiting UN rights envoy a "whore" and a "bitch" in a recent public speech.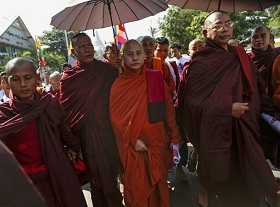 << Nationalist monk Wirathu (center) takes part in a protest against United Nations envoy Yanghee Lee in Rangoon on Friday. (Photo: Reuters)
The UN has moved to condemn the verbal attack. "The sexist, insulting language used against the UN's independent human rights expert on Myanmar…is utterly unacceptable," UN human rights chief Zeid Ra'ad Al Hussein said in a statement released on Jan. 21.
"It is intolerable for UN Special Rapporteurs to be treated in this way and I call on religious and political leaders in Myanmar to unequivocally condemn all forms of incitement to hatred, including this abhorrent public personal attack against a UN-appointed expert," he said.
Sadly, it is unlikely the Burmese government will take any serious action against Wirathu, who has been accused of preaching anti-Muslim hate speech that has fanned religious violence since his release from prison in 2012.
The controversial monk - who many Burmese Buddhists feel should be stripped of that religious title - has exercised his right to "freedom of expression" to incite hatred and violence, as if he has been granted special permission to do so. The state has so far been unmoved.
Wirathu's latest diatribe was delivered to hundreds of his supporters at a rally in Rangoon on Jan. 16, the same day the UN Special Rapporteur for Burma Yanghee Lee concluded her second visit to the country.
Last November, UN Secretary-General Ban Ki-moon also faced hostility from Buddhist monks, and the government, who objected to his use of the term Rohingya during the ASEAN Summit.
There have also been some organized attacks and intimidation during previous UN visits. In August 2013, then UN Special Rapporteur for Burma Tomas Ojea Quintana slammed the government for failing to protect him when his convoy was attacked near Meiktila in central Burma, where anti-Muslim violence broke out in March that year, leaving at least 44 people dead.
Following the incident, the UN envoy said in a statement that his vehicle "was descended upon by a crowd of around 200 people who proceeded to punch and kick the windows and doors of the car while shouting abuse."
"The state had a responsibility [to protect me]…and it failed," Quintana said. Some believed that the attack was well organized and that security forces did nothing to intervene.
Lee's reports and statements on human rights in Burma have reflected the reality on the ground. At the end of her 10-day official visit to the country on Friday, the envoy offered a blunt assessment of the human rights situation.
"Valuable gains made in the area of freedom of expression and assembly risk being lost," she said. "Indeed, there are signs that since my last visit, restrictions and harassment on civil society and the media may have worsened." Many human rights activists and journalists working in the country will not dispute her view.
During her visit, Lee traveled to crisis-prone Arakan State where she said the atmosphere between Buddhists and Muslims remained "hostile."
"I saw internally displaced persons in Muslim camps living in abysmal conditions with limited access to food, health care and essential services," Lee said.
She stressed that international human rights norms "must be at the centre of a solution" in Arakan State. "Collective punishment of the entire Muslim population in the State for the deeds of a limited number of perpetrators from the violence in 2012 is not the answer," she said.
At the UN General Assembly in September, the government asked the international community to cease its annual resolution on the country's human rights record and drop Burma from its broader human rights agenda.
Foreign Minister Wunna Maung Lwin told officials at the General Assembly in New York that Burma was now at the "middle tier of the human rights ladder" and no longer needed to be targeted by sponsored resolutions or the UN's Human Rights Council.
"All major concerns related to human rights have been addressed to a larger extent in the new Myanmar," Wunna Maung Lwin said.
Not true.
Back home, prisons are beginning to fill with more and more political prisoners; conflict in Kachin State shows few signs of abating; and the government continues to use excessive force to silence dissent—including against farmers protesting against the Letpadaung copper mine project in Central Burma in December.
If hate-speech like Wirathu's continues unchecked, it's also possible that more serious communal violence will occur.
Still the government seems to operate in an alternate reality. At the Asia-Europe meeting in Milan, Italy, in October, President Thein Sein urged the EU to stop submitting annual reports on human rights in Burma, as "considerable progress in human rights protection" had been made under his government.
Burma is a long way from realizing genuine democracy and respect for human rights. But to demonstrate it is serious about tackling hate speech and addressing religious violence, the government should condemn Wirathu's verbal slur and ask the Ministry of Religious Affairs and the Sangha Council to take appropriate action.