Who's Scared of the D-Word in the Himalayas?
by Rene P. Ciria-Cruz, Pacific News Service, Dec 15, 2004
Democratizing Bhutan, the last Buddhist absolute monarchy in the Himalayas, should be easy because the king himself wants to divest the throne of its powers. The only problem is, his subjects object to the idea.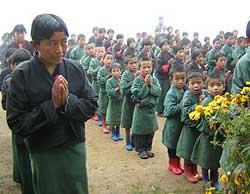 THIMPU, Bhutan -- American neoconservatives who want to spread U.S.-style democracy globally won't like what's happening in this last absolute kingdom in the Himalayas.
Bhutan's hugely popular, 49-year-old King Jigme Singye Wangchuck himself wants to replace the throne with a constitutional democracy. His loyal subjects, however, pray that he'll change his mind.
"He's a king who doesn't like monarchy as a form of government," explains Thinley Penjore, acting foreign secretary. "He told us, 'What if a future king is evil and does harm to the people?'"
But government officials, civil servants and ordinary citizens fear that democracy could recreate the unrest in neighboring Nepal, where constitutional democracy was introduced in 1990 and quickly imploded into vicious infighting.
Some even see the bitterly divisive U.S. presidential election as a cautionary example of democracy's weaknesses.
"If there are political parties there will be many problems," warns Dawa, 23, who sells antiques and raw-silk scarves at this capital city's crowded weekend market.
"You in America are rich, you can afford democracy," she tells a visiting reporter. "Here we can't, and we will be more united and peaceful with just the king."
"People are apprehensive about democratization because they like the people-oriented government led by the king," explains Dasho Nima Tshering, governor of Punakha district, a 45-minute drive from the capital.
Most of this small, landlocked nation's 700,000 people live in farm villages, amid soaring peaks and glacial streams or in subtropical valleys and hills terraced for cultivation.

There is no abject poverty, thanks to strong Buddhist family ties and a modernization program begun in the 1960s. Although a quarter of the population earns less than a dollar a day, primary education and health care are free.
In 1998 the India- and U.K.-educated king -- the fourth ruler since the monarchy was founded in 1907 -- began ceding most of his day-to-day duties to a council of ministers chosen by the national assembly.
Two years ago, he saw to it that local elections were held for the first time with universal suffrage instead of the traditional household vote.
Government has further decentralized by mandating village-wide participation in deciding local priorities, like the building of roads that link farms to markets or improving access to safe drinking water.
"Decentralization is very convenient for village people," testifies Kencho Gyeltshen, the "Gup" or village council head of Damji in the forested district of Gasa, a day's drive and hike from the capital. "We're grasping it now, after several UNDP trainings."
The United Nations Development Program here is relied on heavily for aid ranging from lending expertise in civil service reform to starting up biodiversity conservation and anti-poverty programs.
The Bhutanese seem to embrace village self-government, which easily can be the envy of grass-roots activists anywhere as a model of participatory democracy. But it's the king's insistence on a democratic constitution and electoral system that has everyone on edge.
The king in Nov. 2001 launched the drafting of Bhutan's first written charter, formalizing the executive, legislative and judiciary branches and allowing political parties.
"The draft could be released next year," says Renata Lok Dessallien, the UNDP's resident representative. "Officials are taking the time to study and pick the best parts of other constitutions," adds Dessallien, whose agency is helping with the research.

"I myself feel we are not ready for democracy," Governor Tshering admits. "We need a higher level of literacy so people can make good choices about different political platforms." The literacy rate is currently 42 percent.
Dessallien isn't sure what kind of political parties will compete in the new electoral system. "Surely there will be special interests. Already the chamber of commerce is asking for high-end tax breaks."
Bhutan's borders also worry its leaders, who jealously guard the national identity. They're wary of China and have a cautious relationship with India, which gives Bhutan a considerable subsidy.
A flawed Bhutanization drive -- which included the enforcement of a national dress and a rigid measure to define who are Bhutanese citizens -- sent thousands of ethnic Nepali into southeastern Nepal in the early 1990s.
Groups opposed to the Bhutanese government now operate in the encampment of 100,000 Nepali-speaking refugees. Also, early this year the Bhutanese army had to drive back northeast Indian separatists across the border.
For many, a democratic system of political free-for-all seems too open to destabilization.
"For the next 100 years no one will want democracy here," contends Gup Gyeltshen. "The poorest people remain poor in a democracy. In a country like Bhutan, monarchy is better." Then he hedges: "I'm confident the king won't do anything wrong."
The Gup's attitude signals what could happen when the constitution is made public. "There may not be a referendum as we know it in the West," says an Australian research consultant.
"Most likely, the draft will be discussed all the way down to the village level, and the people will rubber stamp it because they love their king," she predicts.
Rene P. Ciria-Cruz is an editor at Pacific News Service.