Embracing a religion to restore self-esteem
by Dr Ananda W.P. Guruge, Lanka Daily News, June 20, 2007
At a rally held in Mumbai recently to mark the 50th anniversary of Dr. K. Ambedkar's embracing of Buddhism, a mass conversion of nomadic tribal community took place. Dr. Ananda W.P. Guruge an international Buddhist activist who participated in the event as a special guest gives his impressions.
Los Angeles, CA (USA) -- In my capacity as Vice-president of the World Fellowship of Buddhists, President of the World Buddhist University Council, Patron of the European Buddhist Union and Dean of Academic Affairs of the University of the West, California, USA, I had the privilege of being invited to participate as a special guest in the celebration of the fiftieth anniversary of the conversion to Buddhism of Babasaheb Dr. Bhim Rao Ambedakar, organised under the leadership of Honourable Ramdas Athawale, Member of Parliament.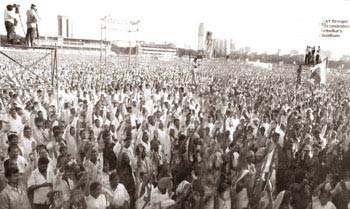 << Dr. Ambedkar: Part of the crowd that thronged the golden jubilee to mark Dr. Ambedkar's embracing of Buddhism. Courtesy: Frontline
The celebration Committee comprised Ven. Rahul Bodhi Maha Thera, Working President, Ven. Ayupal Thera Secretary General, Mr.Nishikant Waghmare Vice-President and International Coordinator, Mr. Vijay Kamble Treasurer, and Messrs.
Arjun Dangle, and Avinash Kamble, Ms. Kalpana Saroj, Dr.Rajendra Gavai, Vice-presidents. With my longstanding friendly relationship with Indian Buddhist leaders and scholars, I expected the event to be a signal success. But what I saw and experienced in Mumbai on this occasion exceeded all my expectations.
It was a packed-to-capacity Shanmukhnand Hall at Matunga, with several hundred saffron-robed Buddhist Monks from various parts of the Buddhist world and a cross-section of the Buddhist population of Maharashtra that welcomed the panels of international and national scholars and activists who participated in a well organised intellectual activity in the form of a two-day International Conference on "World Peace and Humanistic Buddhism."
In one session under the chairmanship of Venerable Galayaye Piyadassi, MBE, Founder of the International Buddhist Centre UK., it examined "The Relevance of Buddhism in 21st Century" with contributions from Dr. Ravsaheb Kasbe, Ven. Rahul Bodhi Maha Thera, Dr. Sribudent Chatchai, Ven.Walpola Piyananda and Ven. Banagala Upatissa.
In another chaired by the renowned economist Dr.Narendra Jadhav, Vice Chancellor of the University of Pune, Dr. N.G. Meshram, Dr. M.D. Nalavade, Dr.Krishna Kirwale, Dr. Phra Nicholas Thanissaro, and Prof. Ramakant Yadav discussed Buddhism and Global Issues from An Ambedkarian Perspective.
The papers presented were of exceptional quality and the exchange of views which ensued proved to be most instructive and stimulating. I had the opportunity to address the Conference during the inaugural session.
I complimented the organisers on their perspicacity to mark the auspicious occasion with an international conference to evaluate the magnificent role, which Dr. Ambedkar has played in his exemplary life of dedication to the good and the welfare of humanity.
I said, "It was an eminent Sri Lankan Buddhist leader, Dr. Gunapala Malalasekera, who, in Nepal the land of the Buddha's birth in 1956 at the General Conference of the World Fellowship of Buddhists, declared that Babasaheb Ambedkar was a veritable Bodhisattva. A bodhisattva in the widely held Buddhist concept is one who enables others to gain salvation.
This indeed has been the role of Babasaheb Ambedakr. His influence over India is as strong today fifty years after his death as it was when he gave the new nation its Republican Constitution and showed the depressed castes to regain their human dignity by turning to the noble teachings of the Buddha.
The land of the Buddha which had barely two lakhs of Buddhists when it gained independence has an estimated Buddhist population of around fifteen million.
The credit for this great reawakening of Buddhism in India goes to this great man whose historic conversion to Buddhism is what we are celebrating today." But all my words of deep sentiments proved inadequate to describe fully what took place the following day at the Mahalakshmi Racecourse.
It was a sea of heads as far as the eye would reach to the very periphery of the Racecourse. Clad in white, the vast crowd of several hundred thousand devotees stood in reverential silence for the moment of their spiritual rebirth.
Many tens of thousand Dalits and tribals - described constitutionally as scheduled castes or tribes - representing the most socially discriminated untouchable communities - sought a new life free of oppression by adopting the teachings of the Buddha who declared that action and not birth would make a person an aristocrat or outcaste.
In voices that reverberated for miles, they recited the Pali stanzas of taking refuge in the Buddhist Triple Gem. The ceremony was presided over by monks from Sri Lanka, Thailand, USA, UK and India. My eyes welled with tears spontaneously as I had at no other time in my life had witnessed such a moving scene of genuine piety and dedication.
The media called it next day a "show of strength." If it was so, the strength that was demonstrated at that moment was the indomitable strength of the good against evil, of piety against irreligion and human dignity against all that undermine equality of humanity.
As a student of Indology with special attention to its sociological and philosophical content, I have been deeply conscious about the most despicable aspects of untouchability through which millions of people have been oppressed for generations from attaining their true worth as human beings.
But the pangs of suffering that they have gone through had never become more evident to me than on this solemn occasion when I heard them directly from persons like Ramdas Athawale and Lakshman Mane whose life struggle has been to overcome socially imposed obstacles of incredible proportions.
I was glad to be present with them to rejoice on this occasion and to show my solidarity in their chosen way of redeeming themselves. My faith in India redoubled as I observed the active participation of the Honourables Chief Minister Deshmukh and his Deputy Patil of the Maharashtra State and listened to their enthusiastic endorsement of the social revolution that was in motion.
Mahopasaka S. N. Goenka's expose on Buddhist ideals and values was timely. It was all so inspiring and it could not be otherwise in this great land of Vedic seers, Upanishadic philosophers, Gautama Buddha, Jina Mahavira, Caitanya and Mahatma Gandhi.
This time I also had the opportunity to revisiting Pune, the city of scholars, where fifty-six years ago I was at the Bhandarkar Research Institute researching for my Ph.D. thesis on the Ramayana. My visit to the Dhyaneshvar World Peace Centre of the Maharashtra Institute of Technology to meet with its President Dr. Visvanath Karad was indeed most rewarding.
So was my visit to Pune University where I could meet once more that most delightful personality Dr. Narendra Jadhav, who arranged for me to meet the faculty of the Department of Buddhist Studies.
We discussed how the University of the West in California could cooperate with them to explore ways and means in which Buddhist studies could be developed to meet the rising demand.
The most significant outcome of this visit were the insights I could gain from my meeting with Dr. Jadhav. In my twenty-hour return flight to USA, I read from cover to cover his most illuminating book, Untouchables, outlining the family history over three generations.
Here Babasaheb Ambedkar is brought to life as the sole inspirer of his illustrious father and the story of hope, courage, forbearance, dedication, and perseverance of the family tells all that one should know to understand why tens of thousand stood a whole day in the summer sun of Mumbai Racecourse to embrace a religion to restore their self-esteem.
This visit of mine to India has been a life-changing experience. The redemption of the Indian "untouchables" is a mission for the entire humanity.