Buddhism's influence on American letters
by John Freeman, Special to The Plain Dealer, January 09, 2005
New York, USA -- Being that mindfulness is key to both practices, it hardly should come as a surprise that poetry and Buddhism overlap in American letters. During the Beat Era, a generation of poets tuned in, turned on and dropped out. Others simply tuned in, and the results ranged from the profound to the silly.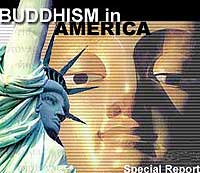 Five decades later, hipsters no longer carry the Diamond Sutra in their rucksack, but the influence of Zen Buddhism on poetry remains profound, as evidenced by Ohio poets Ray McNiece and Larry Smith's new anthology, "American Zen," subtitled "A Gathering of Poets," which collects the work of 30 Zen poets.
The book features everyone from female Beat stars Diane Di Prima and Anne Waldman to obscure poets such as John Gilgun, Netta Gillespie and Seido Ray Ronci. The result of this wide net is a provocative if uneven collection that shows the highs and lows of Zen Buddhism's impact on poetry.
As Smith and McNiece point out in their casual, but keen introduction, there are three main tributaries of Zen outlooks feeding American poetry: "the practice of Buddhism, the writings of older American Zen poets, and the translations of Zen Buddhist writings into English."
"American Zen" reflects all three of these streams, but the one most easily waded into is certainly the practice of Zen. In this regard, the poem is not just a work of art (if it succeeds) but a meditation as well.
In "Choices," Tess Gallagher describes going outside to chop down a tree and realizing a branch contains a bird's nest. One of the oddest selections to wind up here, but also the most beautiful, is Bill Heyen's "Sake Gold," a poem that consists of 28 three-line riffs, including the following selection:
Took a chance ran to
My cabin through lightning -- odds
Against satori
Reaching satori, or a sudden flash of insight, is the goal of Zen Buddhism and, by consequence, the purpose of many of these poems. As a result, "American Zen" is an intimate assemblage: Poets try and sometimes fail to step outside the humdrum world. They invite us into their domestic struggles. Smith's own "Following the Road," for example, journeys from the details of an airport drop-off to a moment of calm out on the Ohio highway. "As I glide past Twin Lakes," he writes, "flatbodies of water under stars, I hold the wheel gently, slowing my body to the road."
Time and again throughout "American Zen," poets reach out to teachers, seeking advice. "Basho," writes David Ray, "please take me/along once more that path."
In "After Reading Han-Shan," Thomas Rain Crowe remarks, "How I love the way Han-Shan laughs when he speaks!"
Although these poems reflect a mode of dialogue in Buddhist teaching, there is something jarring and aggressively public about their beseeching. It seems one thing to share a lightning bolt of insight with readers, quite another to ask them to listen to your own private conversation with Zen masters.
Perhaps McNiece and Smith have included such work to remind us that satori does not occur in every sitting; one must be patient. Bravely, "American Zen" pays tribute to this process, and occasionally it delivers its rare results, as in Kathie Davis' poem, "Miracle."
"Maybe/the burning bush/was just autumn," she writes, in a poem that would be a fitting epigram for this tributary book of verse. "It would have been/enough."
----------
Freeman is a critic in New York City. To reach John Freeman: books@plaind.com