One voice, one heart: How Malaysian Buddhists are coming of age
by Goh Seng Chai, The Buddhist Channel, Jan 14, 2005
Kuala Lumpur, Malaysia -- Just 8 hours after the first tsunami waves crashed onto Penang and Kuala Muda, Kedah (Malaysia), relief workers were already at the scene, rummaging through the damage, pitching temporary relief tents and comforting victims. In Penang, it was reported that the relief effort by one NGO had already mobilized fresh drinking water, medicine, stretchers, tents and other materials suitable to be used during a typical flooding situation.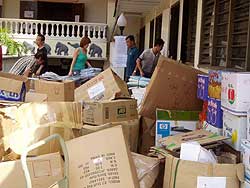 << Malaysian Buddhists bringing upon themselves much inconvenience and hassle to help out on relief aid to tsunami victims. (File pix, The BC)
"Informers" and "watchers" - key personnel located at the disaster sites, were already dispatching critical information on the ground, keeping those in the distribution networks in touch with the kind and amount of aid needed, and when. That aid agency in question, by the way, is run by a Buddhist organization. Buddhist Tzu Chi Merit Society Malaysia gained unexpected fame amongst the local populace when they became the first relief group to arrive at the various devastated sites the moment the waves subsided.
This was acknowledged by the various local village chieftains (penghulus) as well as local state government agencies. Tzu Chi relief workers dispensed aid to all who needed it - Buddhists, Muslims, Taoists, Hindus - without differentiating their background. At the same time, they were mindful of local sensitivities, and worked hand in hand with other relief agencies from other religions to ensure that local beliefs were not infringed upon.
Twenty four hours after news of the massive devastation became apparent, temples and viharas all over the country issued notices to their followers and devotees to mobilize urgent humanitarian relief. From Penang to Kedah and Selangor to Johor, Buddhists thronged their respective temples with foods, water, clothes, rice, medicine and cash donations.
The Buddhist Maha Vihara in Kuala Lumpur became one of the key collection centre in the capital, with the quantum of materials collected outpacing the number of volunteers needed to manage them. Clothes, bags of rice, bottled water etc were stacked right up to the ceiling - some three stories high - in all the halls located within the temple compound.
Massive traffic jams developed over a one kilometer diameter leading to the vihara. In the midst of the chaotic situation, the mood and atmosphere of the surrounding was surprisingly one of calm. No one honked in the gridlock. People - some with babies in their hands - parked their cars a mile away, walked and lugged goods all the way to the temple compound.
Bhikkuni Kusuma, a visiting nun from Sri Lanka, succinctly observed and commented, "In the midst of din and noise, one could observe serenity and joy. In the midst of disjointedness, there was this orderliness. Chaos in the midst of serenity. An unimaginable scenario. So many times tears came to my eyes, seeing the people?s wonderful devotion."
All over the country, such scenes were repeated at major Buddhist temples. Never have so many container trucks and lorries been dispatched to so many temples. Volunteers, many bringing their family along, worked till midnight on many days for over two weeks, to ensure that goods collected were promptly carted onto containers. In the day, they would don their office, school and professional attire. Once come dusk, they would put on their T-Shirts and jeans or shorts and assume the role of labourers.
What happened in the last 3 weeks or so is even more mind boggling when one realizes the fact that no single authority issued a standard decree to mobilize help. What drove so many Malaysian Buddhists to unselfishly give themselves to help, and thereby inconveniencing their comfortable lifestyle? Dreams of gain or fame certainly were not a part of the scheme. If anything, inconveniences, trouble, hassles and discomfort greeted them at the doorsteps of every temple. And so, what drove them?
You can say that in just over 50 years since the Dhammaduta seed was planted by senior Maha Sangha members such Ven. Dr K Sri Dhammananda, Ven Chuk Mor and Ven. Pemaratana, Buddhism in Malaysia has finally flourished and moved into mainstream. As at December 2004, Buddhists made up 19% of Malaysian population, second only to Muslims. Some may dispute that many of these are just Buddhists by name or by label only. But through this quantity, there is a larger pool of quality Buddhists - those that know basic Dhamma or can follow basic rites and rituals such as dana, khatina or the significance of Wesak. As a matter of fact, there are many more Buddhists today who know about meditation than any other time.
While Buddhists are generally known for their "introspectiveness" in spiritual cultivation and their aversion to proselytize, they are not too well regarded for being proactive in relation to community based initiatives. However, the Asian tsunami disaster has changed all that. Far from being docile, the Buddhist response itself has demonstrated to be a "flood of compassion". This clearly shows that when the heart and mind are fortified with right training and right access to spiritual values, great actions of benevolence can spring forth.
I sincerely believe that the time for the great flowering of the Buddha-Dharma in this country has come. It is a flowering that is not exertive, not arrogant nor pushy. It is one of benevolence, kindness and compassion. It is a fragrance, like the Buddha says, that goes against the wind. In times of hate, we cultivate love. In times of turmoil, we cultivate peace. And in the midst of turmoil and chaos, we offer ourselves to bring about calm and stability. This is what Buddhist compassion and kindness is all about.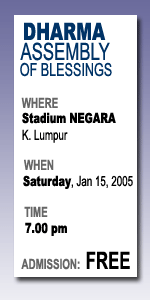 On January 15, 2005, another defining moment will beckon Buddhism in Malaysia. This is where the largest gathering of Buddhists in recent memory - regardless of tradition - will be held at the historic Stadium Negara. After the hard work and toil in collecting, collating and packaging relief aid to victims of the tsunami disaster in other countries, 10,000 local Buddhists will gather for the The General Assembly of Blessings for Tsunami Victims and chant with one heart and one compassion for all those who have suffered and who are continue to suffer due to the disaster.
The defining moment will be when 400 monks and nuns walk in to share the stadium with 10,000 lay followers and transfer merits to the departed ones. As the Chief Venerable of Malaysia Dr K Sri Dhammananda advised in his New Year message, we should never underestimate the power of thoughts, good and bad. If we think that these are separate and distinct from thoughts perpetrated by wicked minds, then we should think again. When our minds are replete with unselfish love, devotion and compassion, the environment likewise rests in harmony. In the state of such a mind, when we are in trouble, our call for divine help can avert many unforeseen disasters. Hence the only way for peace and prosperity is a life of wisdom and compassion.
The General Assembly of Blessings indeed completes the spiritual circle of compassion demonstrated by the strong will and determination of Malaysian Buddhists to alleviate the suffering of those caused by the tsunami disaster. According to Buddhist teachings, the collective chanting and one pointedness of purpose will produce mental energy that will reverberate throughout all spheres of existence - above, below and across. The power of such a gathering is therefore, not something that should be belittled.
May the fragrance of Dhamma continue to spread to all directions in the country. May all its citizens continue to enjoy peace, harmony and stability. May all beings be calm and wise always.
----------
Goh Seng Chai is currently a member of the Executive Council of the World Fellowship of Buddhists (WFB). He is also the President of the World Fellowship of Buddhists ? Selangor Regional Centre. Mr Goh has over 40 years of experience in administrating Buddhist activities. He is the Organizing Secretary for the General Assembly of Blessings for Tsunami Victims.