Animal SOS: Return to Buddhist values
by Janaka Perera, The BUddhist Channel, April 29, 2009
Colombo, Sri Lanka -- Sensitive people in the West are awakening to values that Buddhists and Jains have cherished for centuries. It is that all sentient beings have the right to life and animals and other creatures are not there in this world purely for the purpose of serving the interest of humans.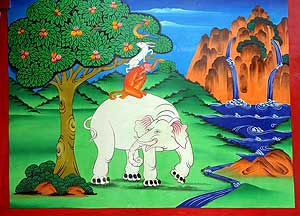 The belief that earth's resources and its creatures were created purely for exploitation by man is an idea that is being increasingly rejected by people in western societies no matter what their elders were taught in schools and churches in the past.
It is solely due to the dedication of one such European that Animal SOS Lanka (Pvt) Limited (www.animalsos-sl.com) has emerged. She is Kim Cooling of the United Kingdom and the organisation's founder-president. She was shocked to see in Sri Lanka thousands of destitute animals roaming in the streets, suffering and dying in agony from disease, starvation, cruelty, neglect and horrific injuries sustained on the roads. For these desperate animals every day is a struggle for survival, says Cooling. She had first noticed this unfortunate situation when she came to the island as a tourist in 1992. It was then that she firmly decided to defend the rights of those who cannot articulate their suffering.
Historical sources reveal that the ethic of Ahimsa (non-violence towards sentient beings) – a cardinal tenet in Buddhism, Jainism and Hinduism was a cornerstone in societies where these religions were predominant.
In ancient Sri Lanka trusteeship power of the State was extended to protect animals, birds and other living creatures of the land pursuant to a plea that Arahat Venerable Mahinda made to King Devanampiyatissa at Mihintale, over 2300 years ago. Rock inscriptions and ancient chronicles like the Mahawansa reveal that extensive state protection was granted to animals and slaughter of cows was strictly prohibited.
The irony of it all is that today this country which had a long history of animal welfare, including animal sanctuaries and hospitals for animals - is a virtual hell on earth for many domestic and wild creatures. Their misery is largely rooted in the moronic 'religious' beliefs that European colonialists introduced here but are not acceptable to many in the West today. Yet in Sri Lanka resisting the brainwashed morons is still an uphill task when it comes to enacting animal welfare legislation.
Working with UK and Sri Lankan partnerships and support, Animal SOS hopes to give additional quality of life to both humans and animals here to be enjoyed by future generations. The organisation's vision is to work together with government and local communities to promote animal welfare and become a voice for animals.
Kim Cooling and Animal SOS have saved the lives of many stray cats and dogs, nursed them back to health, vaccinated them against disease and found shelter for them. Working closely with Cooling is Animal Welfare activist Anoma Akmeemana,
One of Cooling's friends in the UK has a 16-acre farm land allocated for cattle, sheep and other domestic animals that are no longer useful because of old age. In this farm land the creatures are allowed to roam freely until they die of natural causes.
At a meeting held at the Mount Lavinia Hotel early this month Cooling said that President Mahinda Rajapaksa's undertaking as set out in the Mahinda Chintanaya to discard obsolete laws governing prevention of cruelty to animals and replace them with new laws reflecting modern standards in the care and treatment of animals including the establishment of an Animal Welfare Authority, would be the ultimate test of Sri Lanka's commitment to animal welfare.
Addressing the same meeting JHU (National Heritage Party) Parliamentarian Venerable Athureliye Rathana and President World Buddhist Peace Foundation Kanthi Perera welcomed the efforts of Animal SOS Lanka and assured their unstinted support to the organization.
Ven. Rathana said that today Sri Lankans were slaughtering the 'goose that lays the golden eggs' and enriching milk powder importers. Meat eating was being extensively popularized in a country where before the advent of European colonialism rearing animals for slaughter was unheard of. Kill and eat is not a Buddhist tenet. The Buddhist first precept and condemnation of several categories of vocations as constituting wrong livelihoods in the Buddhist discourse on the eightfold noble path, provides a clear insight into the Buddhist scriptural position towards animals.
He referred to an incident in Maradana where when some head of cattle were being taken for ritual slaughter in the name of religion, one of the animals had broken loose and run into the premises of a nearby Buddhist temple, instinctively realizing that it was a sanctuary. The temple's Chief monk had taken charge of the frightened creature and refused to release it to the 'religious' people who had demanded the animal back.
Earlier on February 19, 2009, Ven. Rathana tabled in Parliament the Animal Welfare Bill which also seeks to establish a National Animal Welfare Authority, as a Private Member's Bill. The Bill provides for the protection of animals from cruelty; to foster kindness, compassion and responsible behaviour towards animals in the community. The Bill carries a couple of changes to the original draft Bill prepared by the Law Commission of Sri Lanka.
Kanthi Perera said that sensitivity towards suffering and pain of animals should come from home, parents and teachers. She stressed that compassion for all living creatures should be inculcated in young minds at grass roots level through film shows, booklets and other material. Religious teaching should encompass love for animals. Perera lauded President Rajapaksa for enforcing a no-kill policy on stray dogs.
Former Legal Consultant to the Law Commission of Sri Lanka and Attorney at Law Senaka Weeraratna referred to the visit of Dutch Admiral Joris Van Spilbergen to the Kandyan Kingdom in 1602. According to historical records Admiral Van Spilbergen had seen thousands and thousands of cattle and buffalo roaming freely in the areas that he passed on his way through Mahiyangana and Madamahanuwara to meet King Wimala Dharma Suriya I in Kandy. These animals were then a protected species and there was no shortage of milk and dairy food in the kingdom. Our ancestors took pride in the country's cattle wealth, Mr. Weeraratna added.
He argued that campaigning for human rights with no regard to the suffering of animals was morally indefensible. He said that the debate on human rights would be greatly enriched if there is also a focus on the rights of animals. Suffering and pain are evils common to both humans and animals. Both groups have a moral entitlement to be liberated from suffering, pain and cruelty.
Drawing attention to India's Animal Welfare Board, he regretted that there was no corresponding State instrumentality in Sri Lanka. Weeraratna said that Sri Lanka's Animal Welfare Bill still awaits enactment in Parliament, noting that upon enactment it would serve as a sound precedent for other countries particularly in Asia to follow suit.
Weeraratna called for the removal from Sri Lanka's landscape the culture of impunity and non-accountability in respect to the abuse of animals. He urged that the protection afforded by the Criminal Justice system to humans should be further extended to cover animals beginning with the country's precious wild life. "Elephants, leopards, buffaloes and the like are rapidly getting decimated today virtually with impunity."
The senseless destruction of our wild life must not be allowed to continue. Enforcement of the law in this area must be strengthened with more resources allocated to the Dept. of Wild Life Conservation. More personnel should be engaged to investigate these heinous crimes. The offenders must be brought to book and dealt with deterrent punishment.
Weeraratna ended his presentation by re-calling the oft quoted words of Mahatma Gandhi, but nevertheless still much relevant:
"The greatness of a nation and its moral progress can be judged by the way its animals are treated."