Spiritual Leader, Dharma Master Cheng Yen
By Zoher Abdoolcarim Time, Apr. 21, 2011
Taipei, Taiwan -- Buddhism teaches that suffering is inescapable but that everyone has the potential to overcome it. Taiwan's Dharma Master Cheng Yen is the embodiment of such a soul.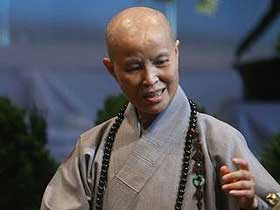 << Master Cheng Yen
As a spiritual guru, Cheng Yen, 73, has an ethereal quality. Yet the Buddhist nun is also the well-grounded, no-nonsense head of a non-profit humanitarian machine with divisions in 50 countries and nearly 10 million supporters and volunteers.
The Tzu Chi Foundation (tzu chi means compassionate relief) is known for the astonishing speed and efficiency with which it brings aid to victims of natural disasters. Wherever calamities occur, Tzu Chi volunteers and experts arrive promptly, dispensing food, medicine, blankets and warm clothing (as they did recently in Japan) and, in the long term, rebuilding homes, clinics and schools. Countless numbers have drawn succor from Tzu Chi's beneficence.
Buddhism also teaches that beings with good karma (deeds and thoughts) can be reborn into a higher state. The hereafter is the realm of the unknown but, in this life, Cheng Yen is already a saint.
Master Cheng Yen was named as one of the 100 most influential people in the world in 2011 by Time magazine Thursday in recognition of her contributions to serving the needy.
Cheng Yen ounded Tzu Chi in 1966, with the motto of "instructing the rich and saving the poor, " with four major missions -- charity, medicine, education and culture.
Under Cheng's leadership, Tzu Chi is now a global organization involved in international disaster relief, bone marrow donations, environmental protection and community volunteer work.
The venerable nun also took fifth place with 112,330 votes in a "People's Choice" online poll conducted by the magazine.