Ven. Vitiyala Seevali Thera: A great Buddhist missionary
by Venerable Aggamaha Panditha, Lanka Daily News, June 22, 2011
Colombo, Sri Lanka -- Upon attaining Enlightenment the Buddha exhorted his first mission comprising 60 bhikkus led by the five ascetics - Kondanna, Bhaddiya, Wappa, Mahanama and Assaji - to go forth and spread the Dhamma for the good and welfare of the many in this life and the hereafter. ('Charatha Bhikkawe Charikang Bahujana Hithaya, Bahujana Sukhaya...') It is necessary to remember with gratitude that since this exhortation generations of bhikkus have fulfilled the sacred duty of propagating the Dhamma for 2600 years. It is a great and rare fortune that the institution of the Sangha which began in ancient India has today spread worldwide.
Courageous monk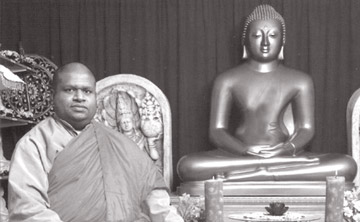 << Ven. Vitiyala Seevali Thera
Recent history shows that the strong anti-colonial movement that began in India parallel to Anagarika Dharmapala's campaign for national and Buddhist revival gave new life to the Buddha Sasana. He accompanied the Venerable Parawahera Vajiragnana and several other bhikkus to England for training them in Buddhist missionary work. A group of other bhikkus including the Venerable Neluwe Jinarathana and Ven. Heenatiyana Dhammaloka were taken to India for the same purpose.
This immense service Dharmapala performed was so successful that well-educated monks are today making an excellent contribution to the preservation and spread of the Buddha Dhamma in both East and West.
Among them is the Venerable Vitiyala Seevali, former Principal of the Paramadhammachetiya Pirivena, Ratmalana. A resident monk in Minnesota, USA, Ven. Seevali has begun two Buddhist Viharas near the State Capital Minneapolis.
Two Nepalese bhikkus trained and educated in Sri Lanka have joined the Ven. Seevali in his unique missionary work there.
Ven. Seevali is a humble but courageous monk who is highly proficient in Sinhala, Pali, Sanskrit and English. He has an inborn talent for clearly explaining difficult points in the Dhamma and winning the hearts of his audience.
Buddhist activities
He has greatly impressed American Buddhists. It has made a rich American Buddhist to donate 500-acre block of land to Ven. Seevali for Buddhist activities.
Apples, grapes, oranges and bamboos grow in this large scenic area which has several large ponds. Deer, Sambhur and other wild animals freely roam in this land which has been allocated for a meditation centre. Comfortable seats have been provided for meditating under trees.
The centre also comprises a dining hall for bhikkus (danasala), a Dhamma discussion hall and a library. Not only white Americans but also Indian, Thai, Burmese, Cambodian, Laotian, Vietnam, Korean, Japanese and Sri Lankan-born Buddhists are among Ven. Seevali's patrons and close associates.
Members of the Amarapura Sect have expressed their appreciation of the Most Venerable Mahopadhya, Thibbotuwawe Sri Sumangala Mahanayaka and the Karaka Sangha Sabha for honouring Rajakeeya Panditha the Venerable Seevali with the title Dharmakeerthi Sri Pragnarama and appointing him Dwitheeya Sangha Nayaka of North America in recognition of his great Buddhist missionary work overseas.
We wish Ven. Seevali long and healthy life and hope that the international community will extend its fullest cooperation to him in continuing his noble service for the cause of propagating Buddhism.
A ceremony will be held to felicitate Ven. Seevali Thera at the Paramadhammachetiya Pirivena, Ratmalana on Thursday June 23 at 3.00 p.m.
-------
Venerable Aggamaha Panditha Kotugoda Dhammawasa Anunayaka Thera is President, Sri Lanka Amarapura Maha Sangha Sabha