Death of Buddhist Church president leaves hole in Japanese community
By Phil Ferolito, Yakima Herald-Republic, Jul 22, 2011
WAPATO, Wash. (USA) -- Sweeping berries from a walk at the Yakima Buddhist Church in Wapato one recent afternoon, three men reminisced about how devoted Yosh Uchida was to the local Japanese-American community.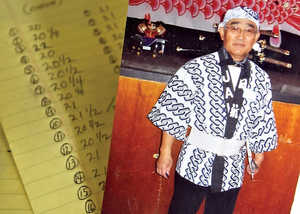 << GORDON KING/Yakima Herald-Republ
Yoshio "Yosh" Uchida was photographed in 2008 at the annual sukiyaki dinner in Wapato he supervised for a number of years. He kept meticulous notes for the dinner including amounts of food and people who paid for the dinner.
Bristles of straw brooms whisked across the concrete walk as Uchida's brother, Tom, and friends Lon Inaba and Dave Sakamoto swept the walk beneath a mushroom-shaped mulberry tree.
"This was Yosh's tree," said Inaba, spokesman for the close-knit Japanese-American community in the Yakima Valley. "He didn't want anyone pruning this tree."
"It's not like any one of us wanted to trim the dang thing anyway," he said with a laugh. "He took a lot of time pruning that tree and was really meticulous about it."
But now someone else will have to take up the chore, along with other tasks that Uchida quietly made his own in a lifetime commitment to keep community traditions alive.
Uchida, the youngest member of the second generation of Japanese in the Yakima Valley, died unexpectedly of a massive heart attack on July 2. He was 68. His death leaves a large whole in this small community.
"Now I guess the third generation has to take a greater role," said Inaba, 55, referring to his generation. "I guess that's the Japanese way."
Uchida was the president of the Buddhist Church and for the past decade organized its annual sukiyaki dinner fundraiser, an event that drew more than 1,500 visitors from as far away as the Tri-Cities and Seattle.
"We don't have a lot of members. Every time we lose one, it's a huge loss," Inaba said. "It's a huge loss -- It's tough."
Church membership has fallen from about 60 members back in the 1960s to 18 today.
Uchida, born in an internment camp during World War II, will always be remembered as a "taskmaster" who didn't shy away from work and held close to his heart the history of his forefathers, the Japanese pioneers of the Yakima Valley.
Sakamoto, 75, rode in a truck with Uchida every year to Tacoma and Seattle to pick up meat, yam noodles and other ingredients for the annual dinner.
Recalling those trips, Sakamoto looked to the ground and quietly shook his head, acknowledging that he's going to miss his longtime friend.
But whoever takes the helm of the dinner that lures some 120 volunteers will have some direction.
"Well Yosh, he's got a stack of notes in his house," said his 82-year-old brother Tom. "He said if you find those, then you find the secret."
Uchida was always the guy with the clipboard, taking notes on the amount of ingredients, his brother said. In fact, while cleaning out Yosh Uchida's Yakima home one recent morning, Tom Uchida opened a box full of his brother's handwritten notes detailing amounts of onions, noodles, meat and other ingredients that went into each dinners over the years.
"He was always writing something down," Tom Uchida said. "Yosh kept track of everything."
BORN AT HEART MOUNTAIN, WYO., during World War II, Uchida's life began at a time when Japanese-Americans faced much discrimination in Yakima Valley and across the country.
Over the three years of its existence as a War Relocation Authority facility, Heart Mountain confined some 13,997 internees, according to the Heart Mountain Foundation, formed in 1997 to preserve the site.
Heart Mountain represents U.S. history following the bombing of Pearl Harbor, when 120,000 persons of Japanese ancestry, two-thirds of them American-born, were deprived of due process and forced to leave their homes and livelihoods.
Tom remembers the crops his family left behind in the Lower Valley when they were ordered to the heavily guarded camp. Life took on a new meaning, he said.
He could only imagine what his mother must have felt when she learned that she would give birth to his little brother at the camp, which consisted of rows of barracks behind a large fence and gun-toting guards.
"They didn't tell you anything so you didn't know," he said. "You just lived for that time and that's all."
But Uchida, who was close to 3 years old when his family came home, always kept the history of the camp and the few Japanese who returned to the Yakima Valley fresh in his memory.
Inaba said Uchida thought the ghosts of a group bachelors who lived in the church's gym after Heart Mountain still lurked there.
"He said he could feel the hair on the back of his neck stand up (when in the gym sometimes)," Inaba said.
When he found an old cache of memorabilia -- photos, letters and even a few kimonos -- stuffed in an old trunk, he personally saw to it that the items were part of a larger exhibit of Japanese pioneers in the Yakima Valley Museum last year.
"I'm sure he was convinced that it was the trunk of the bachelors that stayed in the gym after the war," Inaba said.
Uchida also was proud of the handmade altar of the Buddhist Church, which for protection during the internment was kept under a stage in the gym.
When the Japanese pioneer exhibit opened at the museum, Uchida stood in front of a large photo of the altar, explaining its history in detail and thanking two townspeople, Dan McDonald and Esther Boyd, for watching over the church and the gym during that time.
It will take a lot of people to pick up the work Yosh Uchida did, and maybe he wanted it that way, Inaba said, to make sure the community lives on.
"I think it was his wish that everyone kind of take up a bigger role (in the church)," he said. "And he kept saying this to the very end."
Memorial service
A traditional Buddhist memorial will be held for Yosh Uchida on Friday at 1 p.m. at the Yakima Buddhist Church at 212 W. Second Street in Wapato.