Buddhist nun advocates peace through sculpture
by Chelsey Boutan, The Northern Star, November 2, 2011
DeKalb, IL (USA) -- Sculpture graduate student Siew Lian Lim isn't your typical Buddhist nun. Wearing her traditional gray Sangha robe, Lim scours campus parking lots and dumpsters looking for aluminum cans, food wrappers, Styrofoam and other items that she will later use to make shadow puppets.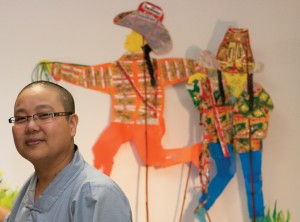 << Peace through art
Siew Lian Lim, sculpture graduate student and Buddhist nun, stands in front of her shadow puppets, which she fashioned from refuse material such as aluminum cans, food wrappers and Styrofoam.
Lim has discovered the meaning of her life through Buddhism, but it's her artwork that she believes gives her peace, balance and self-healing.
Finding her purpose
By making contemporary shadow puppets that resemble folk art from her home country of Malaysia, Lim has found her niche in art. Even though she is a nun, Lim said the purpose of her art isn't to convert viewers to Buddhism.
Instead, she wants viewers to look at what she sewed the shadows puppets together with - trash.
"The amount of refuse material is overwhelming," Lim said. "Filling the land with waste isn't good for the environment or ourselves."
Incorporating printed text like "Top Ramen" from Ramen noodle packages into her puppets reminds Lim what it was like growing up on a poor Malaysian rubber plantation at a time when many people were illiterate.
"I would save the old newspaper that the vegetables were wrapped around," Lim said. "Then I would dry it out and read it because text was so rare. "
Praying for a miracle
At 13 years old, Lim began to search for the meaning of life. Her father passed away when she was three, and four out of her 13 siblings also died. Lim said she decided then that even if she married, she would never have children.
"We were so poor, we had to borrow milk from our neighbors and they looked down on us," Lim said. "I told myself I don't want to have kids."
Lim said she first "met Buddhism" when she was enrolled at a "pre-university" and her retired professor gave her class a lecture about karma. Until that day she had never heard of Buddhism; her family was Taoist.
When Lim came home from school, she prayed for her mother who had been in a coma for four days and three nights. That same night, Lim said a miracle occurred when her mother woke up from the coma. She died one year later, Lim said.
Becoming a nun
Lim enrolled at a Malaysian Buddhist Institute when she was 19 and lived there for 15 years before becoming a nun in 2000. She said her days were filled with studying Buddhist philosophy, meditation and learning how to train her body, speech and mind.
When her meditation teacher suggested that she go to Taiwan to earn a bachelors degree, Lim declined. Buddhism was popular there, and they didn't need her, she said.
"I decided to go to America even though I knew I would be starting from zero and language would be a barrier," Lim said. "I knew America would be a good place to go for my mission because most of the Buddhist literature is in Chinese and not English."
Fulfilling her mission
Lim moved to Chicago 10 years ago, and has been living in DeKalb for the past two years while she pursues her master's degree in sculpture. She will graduate from NIU in May.
Though Lim said she doesn't regret coming to America, she said sometimes she doesn't feel accepted when people recognize her as a religious worker.
"Sometimes I feel like I'm hiding myself because I don't mention that I'm a nun until someone asks me," Lim said. "I de-emphasize my religion because my purpose is to get my degree and self-healing for my brain. My purpose isn't to convert people."
Lim's art is used to advocate peace rather than religion, said Anna Marie Coveny, art gallery director at the DeKalb Area Women's Center, which recently displayed Lim's shadow puppets.
"[Lim] doesn't go around trying to convert people," Coveny said. "[Lim] uses her artwork to promote peace and harmony and to meet people from the West."
Lim tries to look past misconceptions people have by always maintaining her sense of humor, she said. Having a shaven head is one out of 350 Buddhist precepts (or rules) that Lim must follow as a nun. Sometimes, her classmates will point out the nine dots on her shaven head, which are incense burn marks from when she was ordained as a nun.
"Sometimes people say, 'Oh, your dots tattoo is really cool.' I'll jokingly say back, 'Yes, this is my hairstyle,'" Lim said.
Looking to the future
On most days, Lim stays up until 1 or 2 a.m. working on her shadow puppets. As part of her final project, she will tell a traditional Buddhist story by using cowboy imagery with shadow puppets.
"What's interesting about her work is that she takes traditional images from her own [culture] and finds a way to connect that with viewers here in America," said David Parker, adjunct professor of art. Parker is Lim's sculptrue professor.
While she applies for government and travel grants, Lim hopes she will be able to tour the entire United States with her shadow puppets after graduation. She also wants to do additional field research in Malaysia and Indonesia.
Even 32 years after she first decided she would never have children, Lim still hasn't changed her mind. She would have to disrobe as a nun if she did.
"This vow you make to become a nun is hopefully for the rest of your life," she said. "You only have one chance."