Being brave when death is knocking on her door
BY CHAN LI LEEN, The Star, April 22, 2005
IPOH, Malaysia -- Having spent over a third of her life fighting various cancers and other ailments and now a palliative care patient, Chor Haw Ching is fully aware that death can be just around the corner.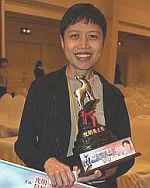 << A TRUE FIGHTER: Chor posing with her trophy and mock cheque at the Guang Ming Hero award ceremony in Ipoh last week.
But while the 31-year-old admits to being a little afraid because it is an unknown factor, the thought of dying holds no fear for her.
?I?m ready,? said this spunky woman who has gone under the knife 11 times.
At 20, she was diagnosed with thyroid cancer, and her gall bladder failed two years later in 1996. In 2000, she was initially thought to have ovarian cancer, but it turned out to be a tumour on the outer wall of her small intestine.
?From the start, doctors painted a very grim picture and warned me about worse things to come. It was as if I had been handed a death sentence.
?The first few years were especially scary and lonely. There were times when I was at the verge of insanity and felt like killing myself,? she said.
Things did get worse ? she was diagnosed with colorectal cancer in 2001, and in 2002 had a 12cm-long tumour removed from her small intestine.
With a large part of her intestines and rectum removed by then, Chor became a stoma patient and was required to wear a pouch outside the body to hold waste excreted.
Left with only 0.3m of large intestine and more tumours growing in her small intestine, she was also told she had only six months to live.
?It was then that I realised life goes on, no matter how happy or sad one is,? she said.
Up till this point, Chor had clung on to her job as a croupier in Genting Highlands, thinking that happiness depended on material things.
Having reached her new understanding of life, she quit her job, and now receives a Socso pension as well as medical benefits from the organisation.
In addition, she started volunteer work with the Perak Palliative Care Society and the Ipoh Hospital?s Palliative Care Unit, where she talks to other cancer patients and looks into their needs. She is also a volunteer with Buddhist groups.
?I found true happiness in accepting my condition and in reaching out to others. I started to realise that it didn?t matter how long I lived as long as life is meaningful,? she said.
And even though she is receiving palliative care, Chor has every intention of living life to the fullest.
Last year, she wrote To Wither and Then Blossom, a book based on her life, which she hopes will inspire others.
Chor's courage in the face of such odds was recognised last week when she received the Guang Ming Hero award and RM10,000 from MCA president Datuk Seri Ong Ka Ting.
As for the future, she said: ?Death and life are actually the same and one shouldn?t be afraid of it. Death is a natural process.?