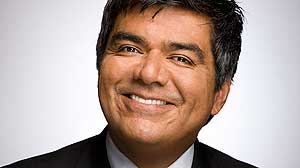 << Photo by Robert Sebree Photography
Oh, and he found Buddhism.
Most recently he hosted a live HBO comedy special, It's Not Me, It's You. "All the specials that I do are live," he tells Art Attack. "In life, fear is the biggest inhibitor of people living a full life. We're afraid to do this, afraid to do that. In order to get past it, you take the things that are most challenging and face them head on. I grew up afraid of everything. Now I can honestly say I'm probably not afraid of anything. I remember my grandmother saying, 'Go get a blanket in there, but be careful.' Be careful? Of a blanket?"
Much of Lopez's humor is based on growing up with his cantankerous, prejudiced grandmother. He remembers his grandmother's unorthodox way of grocery shopping. Seeing her fellow shoppers prompted her purchases. "She'd never make a list," Lopez says. "She'd see a chinito and say, 'Get some rice.' She'd see someone from the Middle East and say, 'Get deodorant.'"
Relationship issues also make it into his show. "When you decide who you want to spend the rest of your life with, make sure it's someone who loves you for who you are and what you are, for your good side and your bad side" he says to his cheering audiences. Then he deadpans, "Good luck."
Referring to his own failed marriage, Lopez is somber as he tells us, "That situation is just unfortunate. She's a good woman, but our personalities are just very, very different. When I got out, I started thinking about what I could do to be better. Now that I'm away from that situation, I'm able to examine myself. When you're in a relationship that's not the greatest, you're on guard all the time. You're not thinking about what you can do to be better; you're just thinking about what you can do to maintain.
"I'm actually not anything like I was when I was married. I think my ex-wife would have been happier if I had been this guy then. It's not necessarily true that everyone is meant to be married until death. I know it says until death do you part, but when you wanna die every day, that's close enough."
Lopez, considered a role model for young Latinos, says that's not a title he's sought. He acknowledges that he's overcome a difficult, disadvantaged childhood, but doesn't claim any particular strength of character. "When I think about where my life was, I'm just so appreciative that I never really got too sideways. I always kept my eye on something that I truly wanted to do - comedy. Fortunately, people enjoy what I do."
So why do some people make it and others don't? "People settle for things without wanting to challenge themselves. They get a job and they stay there; they marry the first person they were ever with. They didn't look at the big picture and they settle for what's right in front of them. I think they chose to take what's behind door number one, without even bothering to think about what could be behind door number three. You have to take that chance.
"I used to be ashamed of where I came from. I went through a lot of painful things as a child and saw things that I probably shouldn't have seen as a kid. I was always thinking, 'Things are so bad, there's got to be something better than this.' I took that negative and aspired to the positive."
The comedian credits golf with teaching him the life lessons his family didn't. "The only lessons that I got growing up were, 'Don't touch that, don't do that, or don't ever let me see you do that again.' You're not going to learn much by that. When I started to play golf in 1981 it brought out all of the things that were wrong with me. I was bad tempered, I would quit, I would lie on the score - and I was really only lying to myself on that.
"Through handling my temper, through calming myself down, through trying less, I did more. It's not a religious thing, because it's not a religion, but it is very peaceful. I'm practicing a little bit of Buddhism now, which is completely out of the ordinary for me. Golf is a little bit like that. At that moment, at that time, you're being your best. All we are is moments until the moments are gone. You can say, 'In two weeks, I want to go to Hawaii.' Well, good luck getting to the two weeks," he laughs.
An avid supporter of President Obama, Lopez has been to the White House three times during the present administration. Not bad for a guy born in a charity hospital in L.A., he says proudly. "And every time I go to the White House, I steal something."
See George Lopez in his This is The America I Live In tour at 8 p.m. Friday and Saturday at the Bayou Music Center, 520 Texas. For information, visit the Bayou Music Center website or call 713‑230‑1600. $49.50 to $61.