Why thousands come to see humble Buddhist monk
by Robert Miller, The Stamford Advocate, October 14, 2012
Danbury, CT (USA) -- He describes himself as a simple Buddhist monk. If only. At 77, His Holiness, the 14th Dalai Lama, is a man constantly on the move, from his home base in India to California, Italy, Scotland, Slovenia and Canada. He will visit 11 different countries this year on speaking tours that include more than 70 stops.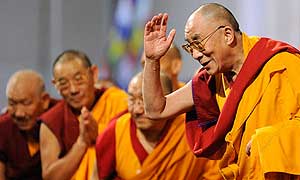 Aging, saffron-robed, heavy-framed glasses sitting on his nose, he just talks.
And at every stop, crowds -- thousands of people, clearly not all Buddhists -- flock to him.
This week, his travels will take him to the O'Neill Center at Western Connecticut State University in Danbury for public talks on Thursday and Friday.
The 7,000 tickets for the two events -- some as much as $250 each -- sold out the first day they were offered to the public through a lottery system.
"Unprecedented,'' said Paul Steinmetz, WestConn spokesman. "He's a rock star. The biggest.''
The Dalai Lama is, in fact, a man of enormous complexity who speaks of the universal values of compassion, non-violence, environmental awareness, kindness and decency.
Message resonates
Out of the tragedy of his home country's 20th century history -- Tibet has been invaded, annexed and devastated by the rule of the Chinese Communist government -- the Dalai Lama has not only prevailed, but transcended.
And the appeal of his words continues to spread.
"I believe the message he has resonates with people today who are overwhelmed by so many things," said Bhuchung Tsering, vice president of the International Campaign for Tibet, who has offices in Washington, D.C.
"He gives them spiritual renewal. Not religious, but spiritual in the broadest sense of the word."
The Dalai Lama is also famous, a figure of enormous international standing.
A winner of the Nobel Peace Prize in 1989, he has become the planet's most visible, consistent spokesman for non-violence and compassion.
A 2008 poll of six countries conducted for the International Herald Tribune found him to be the most respected leader in the world.
"Who else has his standing?" said Richard Wilson, director of the Human Rights Institute at the University of Connecticut. "Maybe Archbishop Tutu. Maybe Nelson Mandela."
His appearance at WestConn -- nearly a year in the planning -- is one of the most anticipated events in the university's 109-year history.
Local historians, trying to find a comparable event in the city's past, could only come up with the concert Leonard Bernstein -- another "rock star" -- conducted in the city in 1974 for the 100th birthday celebration of Charles Ives.
"He is a world figure," said WestConn President James Schmotter. "He is a man of very deep spiritual values, who is also a head of state. He's a very unique individual."
His presence on campus, in conjunction with the Do Ngak Kunphen Ling Tibetan Buddhist Center for Universal Peace in Redding, brings a dimension to WestConn that Schmotter said can be a transforming force in what the university offers to the area, to its students and faculty.
"We're very excited," Schmotter said. "It's the type of thing we feel we, as a university, should be able to offer to western Connecticut."
A 'unique' 14th version
A mix of complication and simplicity makes the Dalai Lama such a compelling figure -- a simple Buddhist monk, born in obscure, rural poverty who commands an international following, the respect of kings and queens, and the devotion of Hollywood celebrities.
"There's something about him that's unique even though he's the 14th version," said Ganden Thurman, executive director of Tibet House in New York City, which is a center for preserving and teaching Tibetan religion and culture.
The reason may have to do with the exotic, romantic Western idea about Tibet -- the Shangri-La glorified in the novel "Lost Horizon" and the Frank Capra movie adaptation of the book.
But Thurman and others said that is also because the Dalai Lama has never varied from his message of compassion, forgiveness, environmental awareness and non-violence.
Given his experiences in life, it's a remarkable achievement.
"Tibet has been oppressed by China," said Wilson of UConn. "But he has been unswerving in his commitment to nonviolence. He stands in a long line of nonviolence."
The comparisons, Wilson said, are to figures like Mahatma Gandhi.
"I think he stands out through the sheer force of his personality," said Jay Garfield, the Doris Silbert Professor of Humanities and a professor of philosophy at Smith College in Northampton, Mass., and the director of the Five College Tibetan Studies in India program.
Garfield said that the Dalai Lama's career as a proponent of nonviolence, a Buddhist philosopher, a prolific author and national leader all carry a moral message.
His talks to the public, Garfield said, "transcend religion" to emphasize the values of compassion and kindness.
"Others talk the talk," said Thurman of the Tibet Center. "He has walked the walk."
Future foreshadowed
That walk began in 1935 in a tiny town of Takster Qinghai in the Tibetan region of Amdo -- a region which already had been absorbed into China.
There, in a town of about 20 families, a boy then named Lhamo Thondup was born in a dirt-floored cow shed connected to his house. Neighbors remembered two crows sitting on the house when he was born; perhaps standing in as guardians.
He seemed destined to a life of rural poverty.
But Tibetan monks had already begun a visionary quest for the reincarnation of the 13th Dalai Lama, who had died in 1933. Their journey took them to Amdo, where they saw a house that was a match to those seen in their visions of the oracles.
Inside, there was 3-year-old Lhamo Thondup. When presented with several objects, he unerringly chose those that had belonged to the 13th Dalai Lama.
He was recognized as the 14th reincarnation of his nation's leader.
Educated by Buddhist monks, he also learned about the Western world and modern science from Heinrich Herrer, a German soldier who had escaped British imprisonment in India during World War II by hiking overland to Lhaso, Tibet's capital.
In 1950, the boy, then 15, was officially designated the Dalai Lama, and given the name Tenzin Gyatso, loosely translated as Ocean of Wisdom.
His future had been foreshadowed.
When he was a teenager, he learned calligraphy by copying the last will and testament of his predecessor, Thupten Gyatso.
The will, written in 1933, foresaw the future of Tibet with frightening accuracy.
"Monasteries shall be looted, property confiscated, and all living beings shall be destroyed ... the very institutions of the state and religion shall be banned and forgotten."
"All souls shall be immersed in suffering and the night shall be dark and long," the will prophesied.
In 1959, China invaded his country. Realizing that if he stayed in Tibet, he would be imprisoned, if not assassinated, the Dalai Lama escaped, walking into India disguised as a Chinese soldier with a padded jacket and a gun slung over his soldier.
He set up his government-in-exile in Dharamsala in India, which has remained the center of his teaching and activities.
The Chinese in the years since their invasion have systematically tried to eradicate Tibetan culture, destroying more than 6,000 Buddhist temples and building prison camps.
China has also built a nuclear waste dump on the Tibetan plateau, military installations along its borders -- largely to keep Tibetans in -- and damaged its ecosystems through extensive mining.
It's also attempted to make Tibet into another part of China by moving more than 8 million ethnic Chinese into the country. They now outnumber the 6 million Tibetans.
Drawn by his gentleness
In the 1970s, the Dalai Lama began traveling to the West to speak out on behalf of Tibet, to create centers of learning and religion here, and to speak in broader terms of the need for compassion and kindness in a world where both are often in short supply.
"He is the embodiment of the Tibetan people," said Bhuchung Tsering of the International Campaign for Tibet.
But his message has broadened.
He now talks more of the need for secular ethics, and the promotion of religious unity, Tsering said.
"The issue of Tibet is third," he said. "But through all of his words, there is an awareness of the value of the culture and religion of Tibet."
Ganden Thurman of Tibet House in New York City said that when the Dalai Lama, a master scholar of Tibetan Buddhism, speaks to a general audience, it is in those general terms.
"This is a not a proselytizing religion," Thurman said.
In turn, he said, people are drawn to the Dalai Lama for his gentleness and decency.
"They recognize quality," he said.
Sonam Zoksang, a photographer, has been taking pictures of the Dalai Lama for 15 years. What strikes him, he said, is that he has remained a profoundly unpretentious person, one who enjoys laughter and conversation.
"He has spoken to presidents, to scientists, to abused women, to ex-prisoners," Zoksang said. "He reaches out to everyone.
"I have seen him so many times," Zoksang said. "Each time I see him, I grow more impressed."
A flame carried candle to candle
The Dalai Lama is also a man nearing the end of his life.
A proponent of liberal democracy, he has willingly ceded political authority to Tibet's government in exile to Lobsang Sangay, who was elected prime minister for Tibetan exiles.
Because of Chinese control of Tibet, there is fear that China will try to name the 15th Dalai Lama.
But according to the current incarnation, his country may not choose to name another Dalai Lama. If it does, he has said, his successor will be born outside Tibet as long as Tibet is under Chinese control.
In Buddhist teaching, a reincarnation is not an exact copy. It is a flame carried from candle to candle.
The Dalai Lama's teachings and his spirit have taken root over the world.
"The feeling is that he will win," said Wilson of the Human Rights Institute at UConn. "He may not be alive. He may not get there. But he will win."