Cambodian monk with a penchant for Karate
By Ravi Nagahawatte, The Ntion (Sri Lanka), 25 November 2012
Colombo, Sri Lanka -- Relationship between Cambodia and Sri Lanka from Buddhist perspective runs into several centuries. Sri Lanka has been a great influence on Cambodia, especially because the island's Buddhist monks have made a huge contribution towards establishing the religion in this South East Asian country.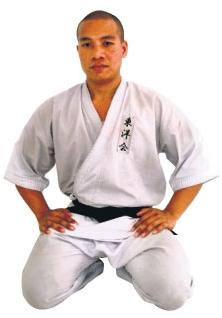 << Ven. Em.Hong - "Karate is similar to meditation and helps nourish mind and body." Pic by Ravi Nagahawatte
Over the years Sri Lanka has been witnessing a steady flow in the arrival of Buddhist monks from Cambodia. All of them are here to study Buddhism. But The Nation caught up with one monk who is a little different from the others. He allocates some time each day to learn karate when he is not studying Dhamma.
A 27-year-old Cambodian monk, Ven. Em Hong is here to finish his degree in Buddhism. He arrived in Sri Lanka in 2010 with the blessings of his parents, both farmers. He told this writer that he wanted to continue his higher studies and that his entering priesthood presented him with ample opportunities to follow his dream.
"Back in Cambodia, life is hectic and people are exhausted when they return home after work, hence devoting time for studies is out," said Ven. Hong and added, "I hate the hectic lifestyle back in Cambodia."His wish is to finish his degree here in Sri Lanka and return to Cambodia. But there will be a huge change in his choice of lifestyle in the future. He wants to become a layman again.
"After finishing my studies, I will continue being a priest for a few more years before I disrobe. The final goal is to be a teacher and serve the community. The years I spend in learning the Dhamma as a priest will help me step into society as a good layman," he affirmed.Before becoming a priest, Ven. Hong was an English teacher in Cambodia. He seemed not to impose restrictions upon himself when talking about education in Cambodia. "It's not the country for studies. There are so many negativities," he stressed.
Nevertheless, he was quick to point out that he enjoyed the freedom experienced by monks in Sri Lanka compared to the strict lifestyles led by Cambodian monks. "Back in my country I wouldn't have been allowed to practice karate as a monk," he said.He is one of the most promising students in the Toyo Kai Karate Federation of Sri Lanka (Situated in Nugegoda) and has excelled in all grading tests since he joined the class three years ago. "I practice karate twice a day. Thanks to the healthy lifestyle I lead I can't remember the day I last fell ill. Karate is similar to meditation and helps nourish mind and body," explained Ven. Hong who sports a brown belt in Karate.
Though he is a monk he doesn't impose restrictions on his diet because he believes serious sport demands solid nutrition. He lives the life of a monk as much as possible and survives on two meals a day. When he arrived in Sri Lanka he lived in a temple in Homagama. But now he lives in a rented room in Pitipana and the rental expense is borne by the Association of Cambodian Buddhist Monks in Sri Lanka.
He brings up the topic of Buddhism when he is with his karate friends and teaches them vital lessons. Ven, Hong says he loves philosophy too.From his talk and approach to the Buddhist way of living one can realize that he is putting all he has in reaching his potential as a human being. "I believe the eight-fold path taught by Lord Buddha is the way forward. You do good, you get good," he said.Like Sri Lanka was terrorized by Tiger rebels, Cambodia too experienced a dark period when the Khmer Rouge troops reigned supreme. "Buddhism can help promote peace in all countries," concluded Ven. Hong.