Zen master: Buddhist monk remembered for simple, peaceful life
by Tristan Scott, Ravalli Republic, March 23, 2013
VICTOR, MO (USA) -- It's fitting that the wide open spaces and soaring mountains of Montana would attract someone like Zen Master Genki Takabayashi, whose name means "high pine forest." Yet there is nothing predictable about the Buddhist monk's journey here, his final resting place.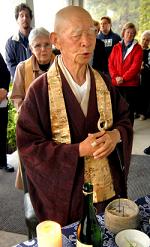 << LINDA THOMPSON - Missoulian
Genki Takabayashi performs a cleansing ceremony and blessing in 2008 of the T-1 Building, where hearings were held for Japanese-Americans brought to the Fort Missoula Alien Detention Center during World War II.
Takabayashi, who died last month at the age of 81, left Japan nearly 35 years ago at the invitation of a University of Washington art history professor, Glen Webb. Webb had opened a small Zen center in Seattle, and needed someone to teach meditation.
After meeting Takabayashi at a temple during a visit to Japan, the professor asked the monk to help. He initially demurred, but agreed to move after Webb purchased him a plane ticket, and became a resident teacher at the Seattle Zen Teacher, which Webb founded.
"I met him at a temple in Japan and I thought he would be a good person to bring to Seattle," Webb recalls. "Of course this was challenging to me because he spoke no English and I had to do all translating for a long time."
Takabayashi learned of Zen as a boy in a Japanese mountain village, and as a young man apprenticed as a monk in a monastery in Kyoto called Daitoku-Ji, the head temple of the Rinza school of Japanese Zen, founded in the 14th century. He remained there for 25 years before meeting Webb.
Shortly after arriving in Seattle, Webb invited the Dalai Lama to visit and speak, and Takabayashi had occasion to meet the high lama.
"I was in charge of his talk and Genki was very excited about that," Webb said.
But Takabayashi subscribed to a specific lineage of the Rinzai denomination, and his views on teaching a singular application of Zen meditation differed from Webb's ecumenical approach. The two men went their separate ways in 1983, but Webb said Takabayashi's time at the Zen center was valuable.
"He had a wonderful, positive effect on a number of peoples' lives," Webb said. "He taught by example."
Takabayashi practiced the spiritual discipline of Zen Buddhism virtually all his life, and was one of only a few native Japanese teachers of the Rinzai school in America. Drawing on that experience, he opened the Dai Bai Zan Cho Bo Zen Ji on Seattle's Beacon Hill. Another of Webb's students, Genjo Joe Marinello, apprenticed there with Takabayashi, and succeeded his mentor when he moved to Montana in 1997.
Marinello was studying under Webb when Takabayashi first arrived from Japan, and the two men developed a sort of pidgin English that only they could understand.
"Nobody could understand us, but we knew what we were talking about and that was all that mattered," Marinello said. "He was very gentle, very down to earth, and he could sit like a rock. He was the shining example of how to enter Zazen meditation, just sitting, just breathing, just listening."
Marinello said Takabayashi was so dedicated to his practice and his tradition that he remembers being surprised when, after arriving in Seattle, one of the first foods he requested was a hamburger.
"We really didn't expect that," he said. "He was very simple, and an absolute pleasure to know. He was a bright, jovial, caring spirit."
Marinello was ordained in 1980 and trained with Takabayashi in Seattle until his retirement 17 years later. He said there was no conflict between the serenity of their sitting meditation and the clutter of city living.
"It's pretty simple what we were trying to achieve. The idea is to sit and touch some depth beyond yourself and let that depth express itself or flower in daily life in a creative or compassionate way that helps you in your daily life," he said. "We had all of the complications of a city life. We were in the midst of a city but we grounded our lives with meditation. I think it made our city life sane, so we could face it with equanimity and peace of mind and a caring spirit."
Takabayashi eventually fell in love with one of his students, Leslie Gannon, who had come to the temple to live after returning from a retreat in India. The couple moved to Ronan, where they opened a small Zen center, hosting meditation and tea ceremonies, and displaying Takabayashi's ceramic art and calligraphy.
Gannon recalls driving through a snowstorm to Helena so that Takabayashi could obtain his citizenship, which he'd lived without through the years. When they arrived, the skies cleared and, when asked by the official why he wanted to be a U.S. citizen, Takabayashi waved his arm toward a window.
"He said, 'There are beautiful skies in Montana,' " Gannon recalls. "The man stamped his paper and that was it."
Ian Marquand, a journalist and one of the founders of the Japan Friendship Club, met Takabayashi and Gannon during a new moon viewing ceremony at the couple's Ronan home, and remained friends with the couple.
"He was always just so pleasant. There was something restorative about being with him, and it seemed important to be able to share a little bit about who he was with the community," Marquand said. "I wanted to share what he gave to me with other people."
Having taken numerous trips to Japan, Marquand shared photos of his trips with the couple, and drank Sake and ceremonial green tea with Takabayashi.
The couple relocated to Victor, and a month before Takabayashi's death, they were in a car accident. His heart was damaged in the crash, and he never recovered from the complications, which were exacerbated by diabetes.
Gannon said her husband was pleased to have lived as long as he did, and happy to die in Montana.
"He was very comfortable with Montana and with Montanans because they are all down to earth, and he certainly was very down to earth," she said. "He gardened and made pottery. It was a very humble life, but he loved it."