Maria Shriver Taking Buddhist Class, Learning To Deal With Her Demons
by Rick Egusquiza, RadarOnline.com, Apr 11, 2013
Los Angeles, CA (USA) -- Maria Shriver is taking a spiritual path of enlightenment to deal with her painful past, RadarOnline.com has learned exclusively. The 57-year-old journalist and former First Lady of California recently attended the class "Feeding Your Demons" based on Tibetan practices, a source reveals to Radar.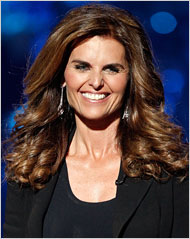 The Emmy-winning niece of President John F. Kennedy – America's first Catholic commander in chief – sat front row center for the intense five-hour course and was one of 100 students attending. Esteemed author and international teacher Lama Tsultrim Allione was the instructor for it at InsightLA in Santa Monica on April 10.
"Maria may have stood out in the capacity crowd, but she was definitely serious about the lesson," a source at the event told Radar. "She took her shoes off like the rest of the students and settled in.
"The seminar was about how to get rid of bad emotions, phobias, or painful pasts. A really awkward moment occurred when the teacher was discussing a student whose husband divorced her and left her for another women who then became suicidal. While the teacher was NOT referring to Maria, some stared at her – it was very uncomfortable."
Maria, who wore a summer dress and a shawl, which she put on her head at times, listened intently with the other students. The 10 a.m. to 5 p.m. course, with a two-and-half hour lunch break, is part of a four-level-training program.
Classes at InsightLA have sliding scale fees. The minimum is $20 but they ask those who can afford it to pay more with core members shelling out anywhere from $500 to $1000. Maria sat in a reserved front row seat, which is where the high donors usually sit.
During the break, Maria chatted with students and impressed everyone with her interest in going deeper with the spiritual teachings, says the source.
"Maria came into the class chatting intently on a cell phone and looking fatigued and very stressed out – she was far from being at peace," adds the source. "But by the time the break came she was like a new person. Maria fit right in – by the end of the day she was smiling and telling other student how much she got out of the class."