How an MBA degree helped Buddhist priest Matsumoto to revitalise temples in Japan
by Priyanka Sangani, ET, May 3, 2013
Tokyo, Japan -- It's hardly unusual for mid-career professsionals to take time off to study management. Having had some real world exposure, an MBA usually helps put things in perspective. It's the same logic that Keisuke Matsumoto used when he decided to enrol for a management degree at the Indian School of Business (ISB), Hyderabad in 2010.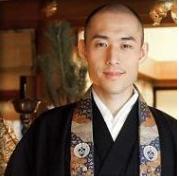 A philosophy graduate from the University of Tokyo, Matsumoto is a Japanese Buddhist priest. The decision to pursue a management degree - with a specialisation in marketing and strategy - came after spending seven years as a monk at the Komyoji Temple in Tokyo. "These days, many people from nonprofit entities like schools or hospitals are studying in B-schools. In order to manage any kind of organisation, an MBA is very useful," he explains. In Japan, the Buddhist temples, called Otera, have been at the centre of community life; but not anymore. Matsumoto wants to change that. "An MBA would help me to revitalize Otera and local communities in Japan," says the 33 year-old.
The Otera, which were once a gathering ground for people across all ages are now used only for ancestral ceremonies. Observing the people around him (the temple is in the heart of the city) Matsumoto realised that most people view temples as conservative places and prefer to stay away. To change that perception, he set up the Young Buddhists Association with a few friends who were interested in Buddhism and the temple culture.
Their activities range from holding a music concert at the temple to yoga classes to setting up a free Temple Cafe that was open to everyone. All this helped in bringing more people to the temple.
He agrees that there is hardly any common ground between business and temples. "There are no parallels between the two. Both of them are what humans do. I know businesses are for profit and temples are not. But regardless of the type of the organisation, the mission is the most fundamental aspect," he says. The Otera are at the heart of Buddhism, and their mission, he says, is to help people live a happy life and cultivate their mindfulness. The choice of India wasn't surprising given that it's the birthplace of Buddhism. "I love India and I wanted to study at a world-class school. ISB was the only b-school across the world which could satisfy my interest," he says.
Matsumoto has always tried to bridge the gap between the temple and the changing world. In 2003, he was probably the first monk to start blogging in an effort to guide others through the process of becoming a monk. Eventually, this resulted in Japan's first online Buddhist 'temple' where anyone can log on for spiritual guidance or simply to clear their mind. The temple is connected through various social media. Given the way the world is changing, Matsumoto feels that Buddhism is relevant more than ever before.
"In a sense, Buddhism is a kind of science which can analyse and cultivate our mind. In the current world environment which is changing very fast in terms of value system, I believe Buddhism can play significant role as a next value system which focuses on the human mind rather than money making," he says. He has carried out a study, 'Economy and Buddhism' to understand the impact it can have in this current overwhelmingly capitalist economy.
And how did the MBA actually help? "Having a customer-centric view is one of the greatest learnings from the MBA," he says. And initiatives that make the temple more accessible to the younger generation fit in perfectly with that. Quoting Drucker, an obvious effect of the b-school training, Matsumoto says that temples should be changeagents. "The value of temples exists not in tangible assets but intangible assets like relational value with people. Temples should focus on how to change people better in terms of spirituality."
Matsumoto believes that he can use his B-school learnings to revitalise the temples. He has already set up a management school for Buddhist priests and monks and has over 100 monks studying there this year. "After launching the school, I have been creating a powerful Buddhist monk's network. In one or two years, the number of temples in our community will reach over two hundred across Japan. I would like to support those temples to create good relationships with people in a local community," is what his vision for the future is.
His time at ISB was an experience he cherishes. "At ISB, I was very much influenced in every moment. Particularly, I learned a lot in the friendship with Indian friends on and off campus. They are open, friendly and kind. They greatly appreciate their family. I was moved to see how strongly bonded their families are," he says. And no, he never considered giving up the temple for the corporate world after finishing his management education.