It's Wimble-Zen as Djokovic gets inner Buddhist peace
The Bangkok Post, 28 Jun 2013
London, UK -- Novak Djokovic admits trips to a Buddhist temple near Wimbledon have given him the peace of mind to cope with a manic week at the All England Club.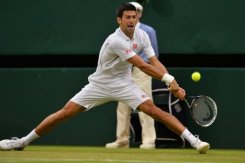 << Serbia's Novak Djokovic stretches for a return at the All England Club in Wimbledon, southwest London, on June 27, 2013. Djokovic admits trips to a Buddhist temple near Wimbledon have given him the peace of mind to cope with a manic week at the All England Club.
Djokovic has progressed serenely to the last 32 while several of the world number one's rivals for the Wimbledon title have suffered agonising exits.
Roger Federer, Rafael Nadal and Jo-Wilfried Tsonga all perished within the first three days, but Djokovic has yet to drop a set and hasn't surrendered his serve in his opening two matches.
The 26-year-old Serb maintained his dominant form on Thursday with a 7-6 (7/2), 6-3, 6-1 win over American qualifier Bobby Reynolds under the Centre Court roof.
And Djokovic revealed he has been taking his mind off the intense struggle for a second All England Club title by seeking refuge in the tranquil surroundings of a Buddhist Temple near the rented house which he shares with girlfriend Jelena Ristic and his coaching team in Wimbledon Village.
"It's very calm and quiet, obviously. I stay in a house which is very nearby. This is a place which we all visit," Djokovic said.
"We like Wimbledon and London in general because there's so many beautiful parks and nature, places which you can call getaways during these two weeks of a hectic Grand Slam atmosphere.
"Obviously there is huge amount of pressure and stress and everything involved, so you need to have a place where you know you can switch off and recharge your batteries.
"I guess it's private, in a way. But I just can say that it's a very calm and very beautiful environment where I like to spend time."
Djokovic's low-stress path towards another Wimbledon final is unlikely to get much more demanding in the next round when he is due to face French 28th seed Jeremy Chardy or German qualifier Jan-Lennard Struff.
Tomas Berdych and David Ferrer are potential quarter-final and semi-final opponents respectively, but neither are likely to strike fear into the heart of the six-time Grand Slam champion.
However, Djokovic is adamant he won't get carried away by dreams of more Wimbledon glory just because a few big names have crashed out.
"I don't think about the final because it's still a very long way," he said. "I think the fact that the top players lost in the last few days gives enough reason for all of us to not underestimate any opponent and not look that far.
"So we got to take it step by step. It's sport, you know. This is what happens.
"Everybody, especially lower ranked players in the opening rounds, have nothing to lose really when they go on the centre stage and they come up with their best game.
"It's something that you should always be cautious about, the potential upsets.
"This is part of the sport. There is also a huge amount of expectation for the top players always to reach the final stages."
If Djokovic carries on serving with such deadly accuracy, it would take a brave man to bet against him making the final, where Andy Murray would likely lie in wait for their third Grand Slam final meeting in the last four majors.
The four-time Australian Open champion admits his serve is a major help on the fast grass courts.
"Definitely, because it's the fastest surface in the sport," he said. "When you play against big servers they put a lot of pressure on your service games.
"Maybe just one loss of concentration in certain moments can cost you a match in this surface. That's why you have to be extra focused.
"Obviously, service games you need to win and put pressure on your opponent. I'm not one of the bigger servers around, but I try to use my serve efficiently. I love playing on grass."