Clover Park High grad returns as ordained Buddhist monk
By LARRY LARUE, The News Tribune, August 17, 2013
Tacoma, Washington (USA) -- \The Vietnamese Buddhist Meditation Center sits on 6 acres on the edge of Tacoma's East Side and houses a temple, monastery and recreation room.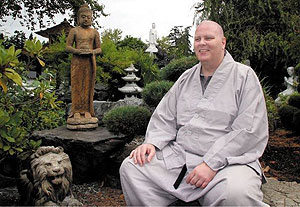 << Jo Jo, a Buddhist monk, lives and works at the Vietnamese Buddhist Meditation Center in Tacoma. He was raised in Tacoma, graduating from Clover Park High. LARRY LARUE/STAFF WRITER
It's also home to a rarity - a Buddhist monk born in the West.
That the venerable Jo Jo came to Tacoma is natural. He was raised here, under another name, in what seems like another life.
"I was born in San Diego, but when I was 6 months old, my father went to Vietnam," Jo Jo said. "My mother came to Tacoma. It's where I was raised. It's my hometown."
Now 45, Jo Jo studied Buddhism in America for more than a decade, then left his life in the West, going to South Korea to learn more. When he returned to Tacoma late last year, he was an ordained monk.
It was a strange, winding path, one that began years before he attended Clover Park High School. Along that path, he worked in a half-dozen Northwest casinos as a dealer and pit boss. For four years, he was married.
"If you want to know what Buddhism means to you, give it up," he said. "When I began to study under different teachers - in Tacoma, Seattle, Los Angeles - it made me want to learn more.
"When I came home last year, I lived with my father. He didn't understand my choice, but he didn't reject it," said Jo Jo, who declines to give or use his American name.
How did he come to the Vietnamese temple?
"There are other Buddhist temples in Tacoma. The Cambodians have their community. The Koreans have their own temple. The Japanese have a temple in downtown Tacoma. There is a Thai temple in Auburn.
"This is the only temple here with a monastery."
The abbot, Thich Phuoc Toan, is a Vietnamese immigrant who came to the United States as a monk in 1980 - the same year Jo Jo, then 13, began researching Buddhism.
"I was fundraising for the Los Angeles temple and came to Tacoma," Toan said. "There were about 30 to 35 families here who begged me to start a temple - the refugee community had nowhere to worship."
Toan came to Tacoma in 1994 and opened a small temple with donations and loans from the Vietnamese community. In 2001, he sold that to put a down payment on land where the new one sits.
"This land was a chicken farm," he said.
The center is more than a place to meditate. Volunteers teach Vietnamese children their native language and culture. Toan teaches Buddhism and conducts rituals for weddings and funerals.
When Jo Jo visited, Toan opened the monastery to him.
"I'm a member of the Taego order," Jo Jo said. "I don't know if other Westerners are surprised I'm a monk. The Asian community is often surprised that I'm a monk. Most Western monks go through it - we're still not 100 percent accepted.
"I found a website that said there were only 40 Western-born monks in the United States. I know one of them."
Jo Jo fits in with the Tacoma temple.
"My emphasis is on meditation, not ritual. There are Asian monks who do the rituals here already," he said. "We are trying to reach out to the Western community.
"I'm going to teach a class this fall at the University of Puget Sound, and Pacific Lutheran University is interested, too."
Spreading the message of Buddhism has come a long way since the first temple was built in the United States, in San Francisco in 1896. Today, Jo Jo has a website. And a blog - Jo Jo's Two Cents Worth.
And he's pursuing a master's degree in Buddhist studies online through the University of Wales.
Like all monks, he lives on donations - as does the temple he is now part of. When he announced to the congregation one Sunday he was going to pursue his master's degree, there was an outpouring of support, he said.
Toan sells paintings and calligraphy to help support the temple, and all monks fundraise to pay expenses.
"We live simply," Jo Jo said, "so we don't need a lot."
Vietnamese Buddhist Meditation Center
2625 72nd Street E.
253-536-4996
MORE ONLINE
Website: www.venjojo.org.
Blog:http://jo2cents.wordpress.com