Tribute to Acharya Buddharakkhita, founder of Maha Bodhi Society
The Buddhist Channel, October 1, 2013
BANGALORE, India -- Acharya Buddharakkhita, 91, founder of Maha Bodhi Society, Bangalore, passed away here on Monday, September 23, at the society's headquarters in Gandhinagar.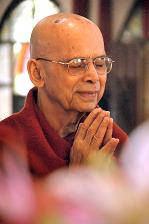 << Acharya Buddharakkhita
(1922 - 2013)
The Acharya, born in 1922 in Imphal, studied automobile engineering in Kolkata. He participated in the "Quit India Movement" and was subsequently jailed for that activity. After studying Buddhist philosophy, psychology and meditation in Sri Lanka and Myanmar for six years, he returned to India and founded the Maha Bodhi Society in 1956.
Under his care, the society started schools, hostels, hospitals and an artificial limb centre. He has written over 150 books and published two magazines on Buddhism. The government of Myanmar has honoured him with Abhidhaja Aggamaha Saddhammajotika award.
"It is a great loss for us... We are extremely grateful to him for his selfless teachings and guidance and everything he so lovingly gave us," said Ananda Bhante, general secretary, Maha Bodhi Society.
The funeral was held on Friday, September 27, at Mahabodhi Dhammaduta Vihara, Alur, near Bangalore. The condolence meet at the society will start at 10am on October 6.
Biodata
Venerable Acharya Buddharakkhita was born in the then eastern state of Manipur in India. He was born on March 12, 1922, a full moon day, in Imphal.
He was a bright student graduated from the Institute of Engineering Technology, Calcutta (Kolkata) in Automobile Engineering. He joined Government of India Defense Ordinance. The job took him to Malaysia, Singapore and various other places during the Second World War. He saw the destruction of life and property and misery that the war brought in the lives of people, which led him to turn towards spirituality. He resigned his job and left his home in search of truth and freedom. For some years he traveled through the length and breadth of India and studied Indian religions in various institutions.
Venerable Acharya Buddharakkhita became monk on the Buddha Poornima Day of 1949 at Kusinagar under the illustrious monk Venerable Candamani Mahathera. He undertook extensive Buddhist studies both in India and Nepal the same year and left to Sri Lanka.
He studied Pali and Buddhism in Sri Lanka and practiced meditation under the renowned meditation master Ven. Mahasi Sayadaw in Burma. He was a member of the editorial board of the Chattha Sangayana - the Sixth Buddhist Synod held in Rangoon, which brought out a complete edition of the Pali canon.
For a short time he served as a professor at the Nava Nalanda Mahavihara in Nalanda. He taught Buddhology at the Nalanda Pali Postgraduate Institute, Bihar. In order to spread the teachings of the Buddha in his own quite way he resigned the job and started Maha Bodhi Society, Bangalore on a piece of land offered by the niece of Ven. Anagarika Dhammapala, Maha Upasika Mrs. B. Moonasinghe, which was offered by the Maharaja of Mysore for the purpose of building a Buddhist center in Bangalore. Thus the Maha Bodhi Society, Bangalore was founded in 1956.
Since then he has been active in conducting weekly discourses on Buddhism, writing articles and books, creating awareness among the people of Karnataka and India about Buddhism. He extended his activities to other countries of the world to disseminate the noble teachings of the Buddha.
His compassion prompted him to undertake many projects to alleviate suffering of people, like building medical centers, monastic institutes, residential schools in different parts of India for displaced and poor children.
In 2001 seeing the urgent need of training good monks in India, he started MAHABODHI MONASTIC INSTITUTE, BANGALORE, on the auspicious day of 2545th Buddha Jayanti Celebrations. Today the institute has the strength of 100 monks from different parts of India who are getting monastic training.
In 2006 at the age of 85 he established MAHABODHI ACADEMY FOR PALI & BUDDHIST STUDIES, which conducts Diploma courses in Buddhist Studies to spread the teachings of the Buddha. This is the result of his deep research and experience in the revival of Buddha Dhamma. The courses are offered in English and Kannada languages.