Tibetan monk Tarap Shetrup Akong killed in China
CBS News, October 9, 2013
BEIJING, China -- A respected Tibetan monk who co-founded the first Tibetan Buddhist monastery in the West and maintained contacts with the Beijing government was killed in China, local police and his brother said.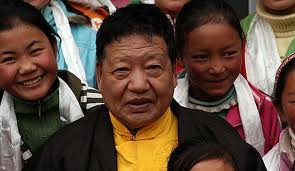 << Chöje Akong Rinpoche (1939 - 2013)
Tarap Shetrup Akong was a rare example of an overseas Tibetan monk who was able to travel regularly to China, build schools in poverty-stricken areas and meet with senior government officials despite fleeing his Himalayan homeland after the Communist Party's takeover of Tibet decades ago. Reports of his death by stabbing Tuesday were met with shock and sadness among Tibetans.
"He was kind and astute, and earned the respect of the community," said Tibetan writer and activist Tsering Woeser, who met the monk in 2003 in a western Chinese town where he was preparing for a charity school project.
The monk, a British citizen, was attacked by three Tibetans at his residence in the southwestern Chinese city of Chengdu on Tuesday and was killed along with his nephew and a driver, Chengdu police said.
Police said the attack occurred after negotiations over a financial dispute soured. The victim's brother, Lama Yeshe Rinpoche, issued a statement saying the three had been "assassinated," but did not elaborate.
The brother wrote on the website of the Scottish monastery co-founded by Tarap Shetrup Akong that the monk's body had been taken to a hospital where a post-mortem would be carried out.
Chengdu police said suspects have been detained and admitted carrying out the killings.
Britain's Foreign Office confirmed the death of a British citizen in Chengdu and said a consular team had traveled to the city to "liaise with Chinese authorities about this case."
The monk's philanthropic work in China won him respect and admiration among Tibetans, who referred to him using the honorary title of Rinpoche.
"Akong Rinpoche was very committed to the Tibetan community. He tried to come to China almost every year and helped build many schools for Tibetans," Woeser said. "Despite many difficulties, he was able to obtain permission from Chinese authorities to run projects in Tibetan regions."
Born in 1939, Tarap Shetrup Akong was groomed to become an abbot in a Tibetan monastery, but fled to India after the 1959 Communist takeover of Tibet. He settled in England in 1963 and later co-founded the Samye Ling Monastery in Scotland in 1967, the first Tibetan Buddhist center to be established in the West.
In the 1990s, Tarap Shetrup Akong shifted his focus to humanitarian projects in Tibet, Nepal and Europe. In Tibet, he helped set up schools, clinics and medical colleges, according to a website affiliated with the monastery.
Tarap Shetrup Akong maintained political ties with Beijing and met with Jia Qinglin, then chairman of China's top political advisory body, when he traveled to Britain in 2006 to explain Beijing's policies in Tibet, according to China's official Xinhua News Agency.
"Though we have settled abroad for a long time, we are always concerned about the development of our motherland, in particular the development of Tibet," Xinhua said Tarap Shetrup Akong told Jia.
The death came days after tensions flared as Chinese security forces fired into a crowd of Tibetan residents who were demanding the release of a fellow villager detained for protesting orders to display the national flag. Overseas rights groups said about 60 Tibetans were injured in the unusual shooting, a sign that Beijing is tightening its control in the Himalayan region following a wave of self-immolations protesting Beijing's rule.
The Chinese Communist government's rule over Tibet has been turbulent. Beijing says it has made vast investments to boost the region's economy and improve the quality of life for Tibetans, but many Tibetans say Beijing's economic policies in the Himalayan region have mainly benefited ethnic Chinese migrants. They also resent the government's strict limits on Buddhism and Tibetan culture, while their spiritual leader Dalai Lama remains in exile.
On the web:
http://en.wikipedia.org/wiki/Akong_Rinpoche