Akong Rinpoche cremation ceremony planned in Tibet
BBC, 11 October 2013
Akong Rinpoche founded the Samye Ling Tibetan centre and monastery in 1967 Akong Rinpoche's body is being taken to Tibet for cremation

Beijing, China -- The body of the founder of the Samye Ling Buddhist centre at Eskdalemuir in Dumfriesshire is being taken to his native Tibet for cremation.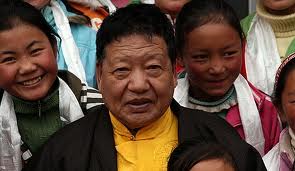 Akong Rinpoche was killed in China on Tuesday along with his nephew and his driver.

A statement on the Samye Ling website confirmed plans for a ceremony in accordance with his high standing.

It will take place at his monastery, Dolma Lhakang, in the Tibetan Autonomous Region.

That was where, at the age of four, he was identified as the reincarnation of an earlier leader, enthroned, and began the spiritual education required for a future abbot.

A statement from his brother - Lama Yeshe - said Akong Rinpoche was travelling in China to distribute funds to projects supported by the charity Rokpa International which he founded - and was killed by individuals trying to rob him.

Chinese police have already said that three Tibetan men are in custody for the triple killing.

Akong Rinpoche left a wife and three children and they have expressed thanks to people in the UK and overseas for the many messages of condolences they have received.
Meanwhile, Lama Yeshe Rinpoche, the brother of Akong Rinpoche, has announced that 49 days of "Milarepa Guru Yoga" will be held at the Samye Ling centre.
Lama Yeshe Rinpoche also thanked his followers for their messages of sympathy:
"My dear friends,"Thank you to all of you who have sent messages of concern and sympathy. We greatly appreciate your kindness.

"Following the advice of Chamgon Khenting Tai Situpa, here in Samye Ling we will be doing Milarepa Guru Yoga for Choje Akong Tulku Rinpoche for 49 days.

"All Samye Dzongs who also wish to do something in their centre for Rinpoche can do either the full Milarepa Guru Yoga or else recite the supplication:

"Je mila shepa dorje la solwandepso". If possible you should do this for 49 days.

"With best wishes to you all, "Lama Yeshe Rinpoche".