Female Buddhist priest aims to make a difference
By MASAKI HASHIDA. Asahi Shimbun, January 05, 2014
Tokyo, Japan -- Five women gathered in a condominium in Tokyo's Kagurazaka district on a recent Friday night to share their worldly problems with Yuken Kikuchi, a female priest of the Jodo Shu (Pure Land) sect of Buddhism.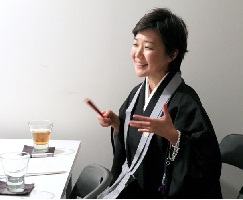 << Yuken Kikuchi, a Buddhist priest, talks to women at a private gathering in a condominium in Tokyo's Shinjuku Ward in September. (Makiko Ikenaga)
"I tend to cave in to temptation easily," said one of the attendees of the women only session in the aesthetically pleasing and scantly furnished room, bathed in white.
"I don't know how to stop feeling so down all the time, or how to rebuild my self-esteem," said another.
Kikuchi, 38, in a calming voice, reassured the women that they are not alone in feeling the way they do and are not the only ones beset with problems.
"I, like everybody else, am fraught with worldly desires … But all things are in flux and nothing is permanent," she said. "Your problems will not linger for long."
She continued that everybody has the potential to grow into a more enlightened being like Buddha. The important thing, she added, is that one at least tries to attain that goal by doing a good deed each day.
Minatsu Wakui, 35, who works as a tour conductor, said she finds the sessions with Kikuchi therapeutic.
"We are learning Buddhist teachings that we can apply to our daily lives, and not from an old nun who may have gone through various hardships, but from somebody who is from our generation," Wakui said.
The group sessions are just one of the ways Kikuchi tries to reach out to ordinary people, not just followers of Buddhism or temple patrons.
Kikuchi works at a Jodo Shu-affiliated facility near Shiba Park in Tokyo's Minato Ward during the week. Her main responsibility is to assist Buddhist temples overseas. This year alone, she has visited Brazil, Hawaii and Los Angeles on business.
Outside work, Kikuchi meets with foreign female Buddhists to study Buddhism. She also visits communities affected by the 2011 Great East Japan Earthquake and tsunami to help survivors.
Kikuchi is set to succeed her father, Koyu, 70, who is the chief priest of the Renkeiji temple in Mishima, Shizuoka Prefecture. Koyu is the 30th chief priest at the temple, which dates to the Kamakura Period (1192-1333).
Kikuchi was born in 1975 as one of his three daughters. She was called Ikuko before she adopted her priesthood name.
Although she has been sure for many years now that following the path of Buddhism is her calling, it was quite a different story when she was growing up.
Kikuchi recalled that she never felt whole, in part, due to the restrictions and the code of conduct imposed on her because she was the daughter of a Buddhist monk.
"You should refrain from behaving in such a way, since you are from a family of a priest," she recalled her relatives always telling her.
Her father was also pressuring his daughters to get married so that one of their husbands would eventually succeed him as chief priest of the venerable temple. Kikuchi said she sensed that her mother always felt guilt for not producing a male heir for her father.
"I found it suffocating (to grow up in a temple) because I could not be myself," she said.
The turning point came when she was in high school. Kikuchi said her exposure to "Buddha," a manga series about Buddha by famed manga artist Osamu Tezuka, helped her realize that Buddhism is a religion that seeks to help those who are suffering. The encounter led her to decide Buddhism would become her life.
While studying at Taisho University, a Jodo Shu-affiliated university in Tokyo, Kikuchi began training to become a priest. When she revealed her plan to her father to enter the final stage of training, he objected.
"I expected one of my daughters to take a husband so he could succeed me at my temple," Koyu recalled telling her. "So I told her not to do it. But she would not listen."
The final three-week stage of her training required her to shave her head in a show of commitment to Buddhism. A strenuous regimen at Zojoji temple in Tokyo included chanting the Buddhist sutras, giving prayers, classes and oral instructions.
Her father, in the end, gave her his blessing for her undertaking, shaving his daughter's head himself.
Although she was determined to pursue Buddhism, she started off by taking a detour from that path.
After graduating from the university in 1998 and helping her family's temple for a year and half, she headed to California to take an English language course for several months. She later traveled for nearly two years in the United States and Japan.
"I did not like the idea of becoming a priest while remaining ignorant of the world," she said. "I wanted to prove I was able to stand on my own two feet."
Kikuchi finally decided to succeed her father five years ago. That is also when she began a monthly gathering at her family's home where she could meet with patrons of the temple and listen to their problems.
In an attempt to make the temple more accessible for everyone in the community, regardless of their religious affiliation, she sometimes throws barbecue parties at the temple. She also sets up a space for children to play on the temple grounds.
"I want to run the temple myself, so I am not thinking about taking a husband," she said.