Buddhist priest Domyo Burk, based in Cedar Mill, writes guide to Zen living
By Anna Marum, Oregon Live, January 31, 2014
Cedar Mill, Oregon, USA -- At age 24, Domyo Burk was neurotic and miserable. She had just graduated from Reed College with a degree in biology, and she had lived a fairly fortunate life. But she was neurotic and miserable, without any apparent reason.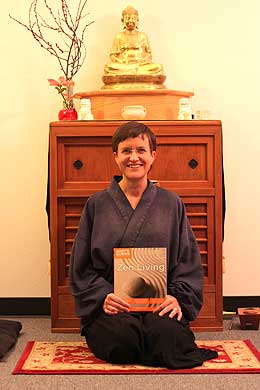 << Domyo Burk opened Bright Way Zen in Cedar Mill in 2011.
Then, in 1997, a few years after she graduated, Burk traveled to India. Before she left, she was reading a guidebook that mentioned Buddhism, which originated in India. The guidebook said Buddhism's first teaching is that life is marked by suffering. This caught Burk's eye.
"I found that incredibly intriguing," she said.
Burk's curiosity grew, and she became especially interested in learning about Zen, a branch of Buddhism with emphasis on meditation. And it eventually changed her life. Burk, of Portand, is now a Zen priest in Cedar Mill, and recently wrote a book on Zen meditation.
"Meditation changes the way your mind works," she said. "It changes the way you relate to your own thoughts and views. At some point I was able to realize how I was causing myself my own suffering. … Once you see how you're causing your own suffering, you're pretty inspired to do something about it."
Domyo BurkView full sizeDomyo Burk opened Bright Way Zen in Cedar Mill in 2011.Anna Marum/Beaverton Leader
Giving back
In 2000, she received her master's degree in wildlife science from Oregon State University, but decided to pursue Zen meditation instead. ("It was not a popular decision with my parents, who had helped me pay for Reed," she said.)
Burk never dreamed she would be so active in an organized religion, but Zen doesn't require belief in a deity. This is sometimes difficult for people to grasp, but it also makes it compatible with other religions and atheism as well.
She attended the Dharma Rain Zen Center in southeast Portland for more than 10 years before enrolling in the center's Zen priest training program.
"... I went into that training for selfish reasons: to help my own peace of mind and happiness," Burk said. "I didn't necessarily intend to become a priest."
But after five years of meditation, classes and retreats, she wanted to give something back. She graduated from the program, received authorization from her teacher and started offering meditation sessions in 2011 in the Beaverton area.
Burk, now 42, said she chose to open Bright Way Zen on the west side because she had noticed several people from the area attending sessions at Dharma Rain. Now, people are pleasantly surprised to discover the little space, tucked away on Barnes Rd. near Cedar Mill.
Rediscovery
Bella Jhunjhunwala, 54, of Bethany, said she's been practicing Zen on and off for about 15 years, and has found her home at Bright Way Zen about a year ago.
Jhunjhunwala appreciates that Burk doesn't pretend to know everything, and likes the practical demeanor that comes with the priest's background in science.
Jhunjhunwala grew up near Darjeeling, India, where she attended Catholic school. While Jhunjhunwala is not Catholic, she still knows all the rituals of Mass, she said.
When she started practicing Zen meditation in the U.S., she didn't like the religious trappings, she said. But now, the bowing and the chants are her favorite part.
"It's funny, because it came from India but I had to come all the way here to find it," she said of the practice. "It just feels like a wonderful teaching from two thousand years ago, and it comes down and it's there for you and you're grateful," she said.
But practicing Zen is constant work, Jhunjhunwala warns.
"It's not something you do," she said. "It's something you are, but you don't know that you are, so you're rediscovering that person you are. To recover who you are, you need to work with the thing you've become. I think what leads a lot of people to Zen is that they're not happy with who they are."
Growing appeal
Burk wants to lead more people to Zen with her new book, "Idiot's Guides: Zen Living."
She started blogging about Zen practices in 2012, and the editor of the Idiot's Guides saw it and thought a book on Zen could appeal to many.
Zen appeals to Americans because it gives practitioners tools for improving their lives, Burk said. These tools are moral guidelines and a positive community.
The religion also encourages spiritual inquiry, and questions and doubt are welcome, Burk said.
Though Zen might seem to depart from most religions, it does include a set of moral guidelines. As a branch of Buddhism, Zen teachings revolve around selflessness, Burk said.
Burk's book came out Jan. 7, and Burk is already working on a second book, which will focus on mindfulness, a modern, secular version of meditation.
Burk will visit Powell's Books at Cedar Hills Crossing at 7 p.m. on Feb. 6 to read from "Idiot's Guides: Zen Living," give a short talk and sign books.
About Bright Way Zen
Domyo Burk leads meditation three times a week.
Sunday morning Zen practice: 9:30 a.m.-noon (meditation, chanting and dharma talk)
Monday evening mindfulness: 7-8:45 p.m. (guided, walking and silent meditation; study)
Tuesday evening Zen practice: 7-9 p.m. (meditation and study)
Burk will also offer a free intro class to Zen meditation 1-2:30 p.m. Saturday, Feb. 15.
Bright Way Zen is located at 12020 S.W. Barnes Road, and shares a space with a Farmers Insurance office.
For more information, visit the temple's website, call 971-207-1843 or email info@brightwayzen.org.
Domyo Burk
Burk will visit Powell's Books at the Cedar Hills Crossing at 7 p.m. on Feb. 6 to read from "Idiot's Guide to Zen Living," give a short talk and sign books. (Anna Marum/Beaverton Leader)