Joshu Sasaki Roshi, who brought Zen Buddhism to U.S., dies at 107
By Christine Mai-Duc, Los Angeles Times, July 28, 2014
Los Angeles, CA (USA) -- Buddhist teacher Joshu Sasaki Roshi, a leading figure in Zen Buddhism in America whose legacy was later complicated by allegations of sexual abuse, has died. He was 107.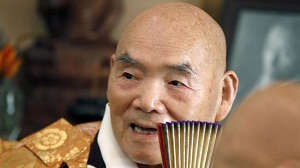 << Joshu Sasaki Roshi celebrates his 50th anniversary at Rinzaiñji Zen Center in Los Angeles in 2012. (Irfan Khan / Los Angeles Times)
Roshi died Sunday afternoon at Cedars-Sinai Medical Center, said Gento Steve Krieger, head monk at Rinzai-ji, also known as the Cimarron Zen Center, in Jefferson Park. He died of complications of old age, Krieger said.
Roshi arrived in Los Angeles more than 50 years ago and was among a wave of Japanese teachers to tailor Zen Buddhism teachings to westerners. He once pledged to students that he would not die "until Zen is born in America."
"He was a Zen master," Krieger said. "I don't know anybody else who lives that completely and that fully. When you meet somebody like that, it changes your opinion of what a human being is."
He opened dozens of Zen centers, including one on Mt. Baldy known for its rigorous training regimen.
Decades later, allegations from dozens of former students that he had sexually abused them surfaced. The allegations included molestation and rape, and some had been reported to the Rinzai-ji board, which never took effective action, according to an investigation by an independent council of Buddhist leaders.
The council's report suggested he may have abused hundreds. "We see how, knowingly and unknowingly, the community was drawn into an open secret," the council wrote. "We have reports that those who chose to speak out were silenced, exiled, ridiculed, or otherwise punished."
A council of senior Zen teachers ordained under Roshi later responded with an apology, acknowledging that it failed to address the teacher's alleged sexual misconduct.
"Our hearts were not firm enough, our minds were not clear enough, and our practices were not strong enough so that we might persist until the problem was resolved. We fully acknowledge now, without any reservation, and with the heaviest of hearts, that because of our failure to address our teacher's sexual misconduct, women and also men have been hurt," said the council in a public statement issued at the time.
One student, Shari Young, who was 19 when she first started learning from Roshi, said she left the center because of abuse and became an Episcopal priest. "The impact on me was so tremendous," she told The Times in 2013. "It's kind of a relief and confirming to know I wasn't just odd."
Krieger, a dedicated student who had known Roshi for a decade, said Roshi taught him and many others "a profound way of life," and that Roshi's legacy rests in the "complicated" love he showed students.
He first met Roshi 10 years ago when, at 97, the Buddhist teacher was still leading large retreats in Zen teachings. "Every day it seemed as though he was drawing his last breath," Krieger said. "But he would be completely throwing himself into it."
As Roshi's health declined, Krieger helped care for him.
Krieger recalls when Roshi was gravely ill two years ago. Doctors said he was on the verge of death and would never eat again. Slowly and methodically, Krieger said, Roshi worked through his pain, repeating Zen phrases in whispers. A month later, he was eating again and lived for two more years.
"The circumstances he was in were completely painful, and it would have been easier to just give up, but that's not how he lived."
Krieger said even though the allegations complicate Roshi's legacy, they were only part of his influence on thousands of students who followed his teaching.
"It tarnished his reputation, but people who are devoted to his teaching are not particularly worried about reputation," Krieger said.
"Roshi was a man, and we don't believe in living gods or perfect beings.… He was a rich and complicated man, and as a community we're still working through many issues and reaching out to the people who were harmed," Krieger said.