Thich Nhat Hahn out of coma
The Buddhist Channel, Jan 5, 2014
Thénac, France -- Plum Village, the Buddhist Sangha commune centre established by Ven. Thich Nhat Hahn has announced that the revered monk is now out of coma.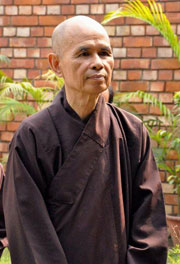 The following is the statement obtained from the commune's website:
In the last three weeks Thay has gradually emerged into wakefulness, and has his eyes open for much of the day, to the point where the doctors can now say that he is no longer in a coma.

In his current state, Thay is able to recognize familiar faces. He is very responsive to verbal stimuli and has brought everyone great joy by starting to smile in the last few days. One of Thay's close attendants recounted some shared memories from being on Tour with Thay. There was a particularly humorous story which, to his astonishment, even made Thay smile and chuckle.

However at the present time Thay is not yet able to speak. This indicates some degree of aphasia, which is being monitored closely and may evolve favourably in response to therapy.

Thay's physical condition remains stable, and thanks to the excellent care Thay has received from the medical staff, he is able to enjoy being comfortable and at ease. Thay is investing great effort in his physiotherapy sessions. He is making daily progress, and the attendants are learning from his mind of determination, as they witness him practising the exercises from time to time throughout the day.

There are plans for Thay to be transferred to a specialist Stroke Rehabilitation Clinic soon. In the Rehab Clinic he will get the best possible care and training in order to regain as much as he can in his speech ability and movements.