Toronto teacher simplifies life with Buddhism
by Veronica Henri, Toronto Sun, May 17, 2015
TORONTO, Canada -- Moses Wuggenig recalls how he drew a puzzled blank stare after informing a friend about his decision to become Buddhist.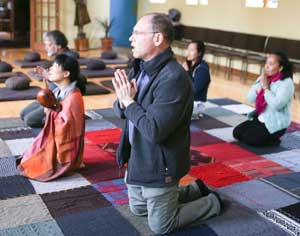 The part-time Toronto high school teacher says his friend asked him if he was sure about embarking on a new way of life — a decision that was perhaps made even more puzzling given he was in his 50s.
Wuggenig, 55, says he answered confidently in the affirmative as the life change "just felt right."
In July 2014, he sold his condo and gave away 90% of his possessions, including a flat-screen television, a state-of-the-art stereo, hundreds of books, more than 800 record albums, and a beloved espresso machine.
"I found myself wed to that espresso machine," he says. "When it was broken, I would fix it right away. But then I realized I preferred the one-cone method, with a filter, and the simplicity and quietness that goes with making a cup of coffee. That other machine just made too much noise."
Wuggenig traded those comforts for one room, located in a house next to the Toronto Zen Buddhist Temple, on Vaughan Rd.
His daily routine calls for him to rise every morning at 5:40 a.m., walk next door to pray, chant and mediate for more than an hour, before taking a bus to Wexford Collegiate School of the Arts to teach English.
The early morning ritual teaches one how to live in the moment, Wuggenig says.
"The practice of mediation allows me to ride out my feelings. It is very calming and centring."
Life is full of distractions and chanting "quiets the mind," he says.
Wuggenig was baptized a Roman Catholic, but never pursued his religion while growing up. He has been a member of the Toronto Zen Buddhist Temple since 2008.
After his precept ceremony in Buddhism — something like "communion" — he now follows a Buddhist code of ethics, performs work practice (chores) at the temple, and learns sutras — a Buddhist scripture — under his new Dharma name, Nanuga.
"In the past, I would purchase things and take endless trips, but never fully live in the moment.
"When I was in San Francisco, I felt I should be in Rio, or some other place. I had an impatience — that the party was always somewhere else," Wuggenig says.
In a large cosmopolitan city such as Toronto, Wuggenig has found a way to make Buddhism work for him.
As a member of Zen Buddhist temple, he has found "the gift of community," follows the teachings of the Buddha, and practices living in the moment.