Tibetans pray for Dalai Lama at 80th birthday celebration
Agence France-Presse, 22 Jun 2015
Dharamsala, India -- The Dalai Lama marked his official 80th birthday on Sunday, with prayers and celebrations at his hometown in exile but little to show for decades of lobbying seeking greater Tibetan autonomy.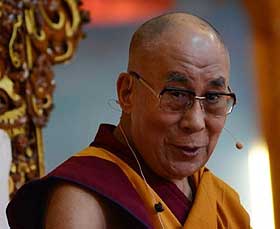 << The Dalai Lama said he hoped to live another 20 years as he turned 80 (AFP Photo/Lobsang Wangyal)
The Nobel laureate will be in the United States when he turns 80 on July 6, but Sunday is his official birthday according to the Tibetan lunar calendar, and he celebrated with his family, fans and followers in Dharamsala.
The jovial Tibetan spiritual leader told fellow exiles and Indian and foreign dignitaries that he expected to live another 20 years and would continue to work for the promotion of compassion and religious harmony.
"I hope you will join me again to celebrate my 90th birthday," he said in a speech at the Tsuglakhang Temple in Dharamsala, the north Indian hill town where he has lived since fleeing Tibet in 1959 after a failed uprising against Chinese rule.
The leader of the government-in-exile wished the Dalai Lama a happy birthday on behalf of all Tibetans, thanking him for his lifelong commitment to safeguarding Tibet and its culture and for his teachings on "universal responsibility to foster religious harmony worldwide".
"You have empowered us with democracy and hope… for the people around the world, you are the beacon of hope and light to all the people," Lobsang Sangay told an 8,000-strong crowd.
"For Tibetans, you are the life and the soul of Tibet."
The event included traditional dancing and a special long-life prayer for the Buddhist spiritual leader, who shows no sign of slowing down.
Although he has officially given up his political role, the Dalai Lama maintains a hectic schedule of foreign travel and is due to visit Britain this month before travelling on to the United States.
But his retirement from politics in 2011 was a reminder to exiled Tibetans that the man who remains the universally recognised face of the movement will not be around forever.
"The two big questions are what will happen after he's gone and whether Tibetans inside and outside China will look to his replacement in the same way," said Jayadeva Ranade, president of the Centre for China Analysis and Strategy in New Delhi.
Sunday's ceremony in Dharamsala — home to thousands of Tibetan refugees — is a time for celebration, but also for reflection on the Dalai Lama's push for greater autonomy for Tibet under Chinese rule.
The elderly monk's promotion of non-violence along with his ready laugh have made him a global peace icon and kept Tibet firmly in the global spotlight.
He has been a unifying force for Tibetans inside and outside the mountainous region, but has little to show for his decades of lobbying.
Formal negotiations with Beijing broke down in 2010 after making no headway, and many exiled Tibetans remain deeply sceptical about renewing them.
– Questions over succession –
Beijing accuses the Dalai Lama of trying to split Tibet from the rest of China and has called him a "wolf in sheep's clothing".
In 2011 the Dalai Lama delegated his political responsibilities to a prime minister elected by Tibetan exiles in an attempt to lessen his own totemic status and secure the movement's future after his death.
But he remains the most powerful rallying point for Tibetans, both in exile and in their homeland.
Last year he told German newspaper Welt am Sonntag that doctors had told him he could live to 100, adding, "in my dreams I will die at the age of 113 years."
Nonetheless advancing years have raised succession questions.
The soul of a senior lama is believed to be reincarnated after death in the body of a child.
Traditionally the search for a new Dalai Lama is conducted by high lamas — senior monks who fan out across Tibet to look for the child who shows signs of being the reincarnation.
China however has indicated it will have the final say over the appointment of a new Tibetan spiritual leader — raising fears of two competing Dalai Lamas.
This happened in 1995 when Beijing rejected the Dalai Lama's choice to be the next Panchen Lama, the second-highest ranking Tibetan Buddhist, and instead picked its own.
The 14th Dalai Lama has repeatedly said he may not be reincarnated — to the apparent frustration of Beijing.
"The Dalai Lama institution will cease one day," he told the BBC in December.
"Much better that a centuries-old tradition cease at the time of a popular Dalai Lama."