Head of Singapore Buddhist Lodge dies at age 70
by Kok Xing Hui, The Straits Times, Sept 2, 2015
PM Lee hails Lee Bock Guan as good man who never discriminated along racial lines
Singapore -- Condolences have poured in for the late Singapore Buddhist Lodge president Lee Bock Guan, who died last Saturday morning at age 70.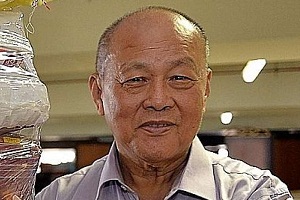 Mr Lee Kim Siang, chairman of Thye Hua Kwan Moral Society, called Mr Lee a "true Buddhist".
"He was fully dedicated to saving people and serving people and that is very hard to find. And I think he had done a lot of good not just for the Buddhists in Singapore but for all Singaporeans," he said, pointing to Mr Lee's donations to other religious groups and the lodge's free food programme.
Those who attended his wake at the Singapore Buddhist Lodge included Prime Minister Lee Hsien Loong, who was there on Sunday.
The Buddhist leader was a good man who did many charitable acts throughout his life and never discriminated along racial, religious or language lines, PM Lee told the evening Shin Min Daily News.
The religious leader died at 3.15am last Saturday in hospital, where he had been treated since Wednesday. He was undergoing kidney dialysis when he developed a fever and was taken to the Singapore General Hospital and diagnosed with a viral infection.
Mr Lee had been afflicted with a number of illnesses in recent years, including high blood pressure, diabetes and heart diseases. In 2012, he suffered a stroke and was hospitalised for 34 days. He leaves behind a wife and four daughters.
More than 7,000 people had shown up to pay their respects to him, evening daily Lianhe Wanbao reported yesterday.
Mr Yeo Guat Kwang, MP for Ang Mo Kio GRC, said he had known Mr Lee for 44 years, since going with his grandmother to volunteer at the lodge as a 10-year-old.
Even as an MP, Mr Yeo said, he had regular discussions with Mr Lee to seek his advice. "He was a really selfless guy who taught me that integrity was the most important thing in all that we do, that when people volunteer their time or donate money, we must make sure that it is put to good use," Mr Yeo told The Straits Times.
Labour chief Chan Chun Sing, Minister in the Prime Minister's Office, told Chinese paper Lianhe Zaobao that he hoped the next Buddhist Lodge chief can continue Mr Lee's good work, to take care of those of other races and religions.
Yesterday, the National Kidney Foundation thanked Mr Lee for the lodge's donations to NKF, including $2 million for a new dialysis centre in Bukit Merah and transport subsidies of $60,000 yearly for NKF beneficiaries.
"The late Mr Lee understood the struggles of kidney patients well. He had a positive outlook in life and encouraged patients to face the future with optimism," said NKF.
Mr Lee was awarded the Public Service Star BBM in 2009.
He will be cremated tomorrow at Kong Meng San Phor Kark See Monastery.