Buddhist nun, 93, hails the 'revolution' of young people fighting security legislation
by By TAKUMI OKADA, Japan Times, October 12, 2015
NINOHE, Iwate Prefecture (Japan) -- Buddhist nun and novelist Jakucho Setouchi said "youth means romance and revolution" as she applauded young people for their opposition to national security legislation after what might be her final sermon in this northeastern city.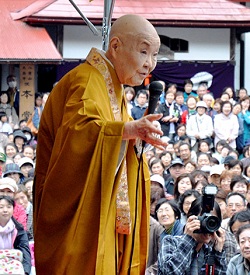 << Buddhist nun and novelist Jakucho Setouchi speaks at Tendaiji temple in Ninohe, Iwate Prefecture, on Oct. 11. (Takumi Okada)
Setouchi, 93, gave a Buddhist perspective on current social issues Oct. 11 in front of about 2,000 people packing the grounds of Tendaiji temple where she serves as honorary chief priest.
"It is wonderful that young people have stood up. I always tell young people that 'youth means romance and revolution,'" she said in a question-and-answer session after the sermon, referring to student protests against the controversial security legislation that passed into law Sept. 19.
Setouchi became the head priest of Tendaiji in 1987 and delivered sermons several times a year even after she retired from the post in 2005. This, however, was her first sermon for about 17 months.
The renowned nun of the Tendai sect had to quit preaching regularly after she suffered a spinal compression fracture and was diagnosed with cancer. She has been recuperating since May last year.
Due to her deteriorating health, Setouchi, who runs her own Jakuan temple in Kyoto, said after the sermon that it may be her last trip to Tendaiji.
"I cannot tell whether I will be coming here again. Please ask me questions as if this is my last session," she said.
When asked about the teachings of the Tendai sect, Setouchi said: "It tells us that we should set aside our own happiness and pray for the happiness of other people. Please pray for the happiness of refugees being hosted by other countries."
Setouchi also looked back on the days after World War II when Tendaiji was desolated and deserted. She helped revive the temple.
Referring to postwar Japan, she commented: "It was horrific because money appeared almost the only thing that mattered in life."
She said that what is really important is what people cannot see.
"We cannot see gods and our ancestors," she said. "It is difficult to understand people's minds, but it is the most important thing to do as we live our own lives."
"We should realize that we are kept alive by things we cannot see," she added.