Michael Moriarty: Buddhist monk believed in social justice
by Jessica Inman, Orlando Sentinel, Dec 16, 2015
Orlando, FL (USA) -- Michael Moriarty was a Soto Zen Buddhist monk and a member of the Interfaith Council of Central Florida. At 74, he was deemed mature enough to become a senior monk and lead services.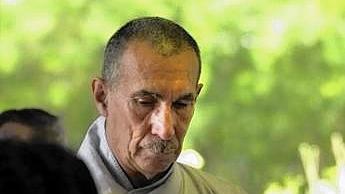 << Michael Moriarty
He was inducted into his new role at a Shuso Hossen ceremony led by the Brevard Zen Center temple's head monk Jim Gallagher, just months before he died, Dec. 2, of a brief illness.
"He was a very spiritual and learned man," said Orlando City Commissioner Patty Sheehan, who knew Moriarty through his involvement in the Colonialtown neighborhood association. "… He was never afraid to share his opinion but he always did so in a very respectful and decent way, and I think that's why so many people will miss him.
"Because I think we've lost the art of being able to respectfully agree to disagree. And Michael had that down to an art."
In Orlando, he frequented several social circles spanning Orlando Front Runners and Walkers to the Orlando Zen Center and a monthly book club. He'd participated in an Orlando Museum of Art exhibition group from 2003 to 2005, where he selected art that would be included in an ancient Americas exhibit.
"He showed up. He was able to just show up," said Claudia Schippert, abbot of Orlando Zen Center, interim director of interdisciplinary studies and associate professor of humanities at UCF.
Everything Moriarty did was tied together by his belief in equal treatment across all groups of people.
"His greatest passion was around the fair and human treatment of every human being on the planet," said Rev. Bryan Fulwider, a member of the executive committee on the Interfaith Council.
Moriarty concerned himself with people who had been oppressed based on the color of their skin, sexual orientation, or faith background, Fulwider said.
"He stood with them. Those were things that he was unequivocal about," he said, "that we must not mistreat one another in this journey."
Longtime friend Jeff Henderson said Moriarty's Zen practice influenced everything he did.
"He was interested in a lot of things and he pursued them all," said sister Anna Marie Moriarty.
She remembers her older brother marking up the Encyclopaedia Britannica when they were young. His love of literature took him to Indiana University, where he earned a doctorate in comparative literature in 1971.
He devoted much of his career to teaching at Valley City (N.D.) State University before he moved to Florida around 1996.
Since then, he's built such deep relationships, among so many different groups of people, that he will have two memorial services. In keeping with Buddhist tradition, one of them will fall 49 days after his passing. The other will be as close as possible to that date. Gallagher said that the temple at Orlando Zen Center was too small to host such an event; that service will move to a larger space.
"My little temple couldn't handle that many people," he said.
In addition to his sister Anna Marie Moriarty of Goshen, Ind., Michael Moriarty is also survived by a brother, Peter Troup, of New Paris, Ind.
Baldwin Brothers Cremation Society, of Winter Park, is handling arrangements.