David Bowie Studied Buddhism; His Tibetan Buddhist Teacher Responds to His Death
by Ryan Charles, Dalailamafilm.com, January 12, 2016
On January 10th David Bowie passed away in New York City. An official statement was released expressing that he "died peacefully, surrounded by his family after an 18-month battle with cancer."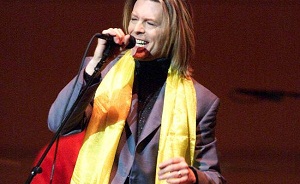 The prolific and influential musician, actor and artist– perhaps best known for his glam rock alter-ego Ziggy Stardust– reinvented himself many times during his more than 5 decades in the public eye. Releasing 26 albums in addition to appearing in over 20 feature films Bowie would forever "turn to face the strange ch-ch-changes" in his own life with grace and courage.
When asked about his personal views on spirituality and religion Bowie once said, "I have always followed some of the tenets of Buddhism, especially the one about change. What came from my Buddhist bumblings is that change is our river. I keep coming back to that, and it means an awful lot to me."
Bowie's interest in spirituality and Buddhism didn't end at the abstract however. At a 2001 Tibet House Benefit Concert at Carnegie Hall in NYC Bowie related a story from his teenage years– when he was not yet David Bowie but still David Jones.
Bowie recalled "stumbling into the Buddhist Society in London when I was about 17, and sitting in front of me at the desk was a Tibetan lama" who would become "my friend, and a teacher for quite some time." That Tibetan monk, Lama Chime Rinpoche responded to Bowie's recent death with a touching video tribute. Although he did not exactly become a monk, Bowie's flirting with Buddhist would continue to influence his music and life for the decades to come including but not limited to his album Buddha of Suburbia.
In 1997, shortly before receiving his star on the Hollywood Walk of Fame, Bowie released his 21st studio album, EARTHLING, which contains the song "Seven Years In Tibet". Co-written by guitarist Reeves Gabrels and slightly based on the experiences of Austrian mountaineer Heinrich Harrer (made famous by his book of the same name) Bowie was advised to record a Mandarin version of the song so as to make the anti-Chinese lyrics accessible to Chinese and Tibetans as well as Westerners. Bowie explained, "I wanted to say something about the Tibetan situation."
Wether it was breaking down gender and race barriers or helping to bring Buddhist and eastern thought to a Western audience David Bowie was a trail blazer in a category with few other artists of this or any other time.
Though Bowie is already being missed by millions of fans around the globe Lama Chime Rinpoche qualifies his sadness with the knowledge that "I'll meet him again in the next life."
Thank you David Bowie for your contribution to music, spirituality and mankind!