David Bowie wants his ashes scattered on Bali in a Buddhist ceremony, his will reveals
by Patrick Sawer and Bernadette McNulty, The Telegraph, February 1, 2016
New York, USA -- As a teenager, David Bowie developed an abiding interest in Buddhism, and later even flirted with the idea of becoming a Buddhist monk in – of all places – Scotland.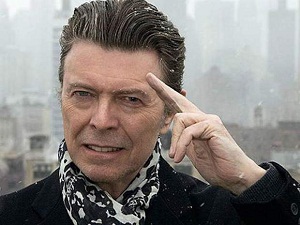 << David Bowie
But now it can be revealed that while the rock star never went through with the plan, in death at least he reaffirmed his lifelong fascination with the eastern religion.
Bowie's will, published in New York, reveals that he wanted his ashes to be scattered on the island of Bali, "in accordance with the Buddhist rituals".
In the will, he also left US$2-million to his long-time personal assistant, Corinne "Coco" Schwab.
Ms Schwab was much more than his secretary. Bowie described her as his best friend and credited her with saving his life when she helped him kick drugs. She was, for a period, also his lover, provoking the ire of his then wife, Angie.
He later said: "She became the most important person in my life in the mid-Seventies. My lifestyle at that time made me quite bonkers, and I had a complete breakdown. Coco was the one person who told me what a fool I was and she made me snap out of it."
The singer's body was cremated in New Jersey on Jan. 12, following his death from cancer two days earlier.
Bowie said in his will, prepared in 2004, that he wanted to be cremated on the Indonesian island, but that if this was "not practical", he wanted his ashes scattered there according to Buddhist rites.
Bowie was almost as far removed from the ascetic Buddhist monks of Tibet as it is possible to imagine. The 20-page will, filed under his real name, David Robert Jones, reveals that his estate was worth about US$100-million. He left a home in SoHo, Manhattan, which he shared with his wife Iman to her, along with half of the rest of his worth.
Duncan Jones, his son from his previous marriage, received 25 per cent, and his daughter, Alexandra, received 25 per cent, as well as his mountain home in upstate New York. He also left $1-million to Marion Skene, Alexandra's nanny.
Bowie's accumulation of wealth may not have chimed with Buddhism's emphasis on a life of simplicity, but there is no denying his sincere interest in the religion. He first encountered it as a teenager, partly through the writings of Jack Kerouac.
He then read Heinrich Harrer's 1952 Seven Years in Tibet, an exploration of Buddhism.
Years later, he said: "When I was about 19, I became a Buddhist overnight. Harrer was one of the very first Westerners actually to go into Tibet and discover for himself this extraordinary existence and this incredibly sublime philosophy."
In another interview, he said: "I was young, fancy-free, and Tibetan Buddhism appealed to me at that time. I thought, 'There's salvation'."
In 1967 he released a song, Silly Boy Blue, inspired by Harrer's descriptions. Bowie added: "It didn't really work. Then I went through Nietzsche, Satanism, Christianity? pottery, and ended up singing. It's been a long road."
In 1969, along with Leonard Cohen, he studied Buddhism at Samye Ling monastery in Dumfriesshire, almost becoming a monk. "I was a terribly earnest Buddhist at the time," he told a biographer decades later.
"I had stayed in their monastery and was going through all their exams, and yet I had this feeling that it wasn't right for me."
Buddhism – and its belief that nothing is permanent and that change is always possible – appears to have influenced Bowie's art and his development of numerous stage personalities.