Pioneering Tamil Buddhist Scholar Composer Prof. V. Subramaniam dies
by S. JANAKI, The Hindu, May 27, 2005
Prof. V. Subramaniam's mission was to popularise Buddhist themes in the Indian classical performing arts.
Chennai, India -- Dr. V. (Venkateswara) Subramaniam was a man of letters and an authority on cultural sociology, socio-anthropology and public administration. He has written numerous articles and books on subjects as diverse as public administration, religion, Marxist theory, performing arts and politics. He and his wife Jaya were `regulars' at the December music season in Chennai. He presented numerous papers and lec-dems at the morning conferences. His scholarly interventions and presentations were sadly missed by rasikas last year after his demise on May 28. His legacy to the field of performing arts is the corpus of dance-dramas on Buddhist themes.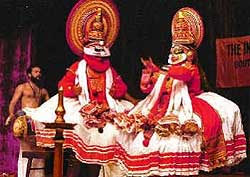 << WORK ENACTED: A scene from `Nalagiri Damanam' staged during one of the music and dance festivals.
Subramaniam was born in a Hindu family of Sanskrit and Tamil scholars in Tuticorin in April 1921. He learnt music from Nagaraja Bhagavatar, a disciple of Chittoor Subramania Pillai. He was an Honours (Chemistry) graduate from the Presidency College, Chennai, and chose political science for Master's. He completed his doctoral studies at the Australian National University and specialised in Public Administration. He was the founding professor and Head of the Public Administration Department at the University of Zambia. He served as Professor at Carleton University, from 1974, and later as distinguished Research Professor from 1992 till his death. Prof. Subramaniam had the rare distinction of having taught in all the five continents of the world. Subramaniam embraced Buddhism while in his twenties in Sri Lanka. He found that Buddhism was spiritually fulfilling but not as culturally vigorous as the Hindu faith.
First dance-drama
He started composing in the 1960s. His first dance-drama `Ambapali' was presented by Rabindranath Tagore's granddaughter Ritha Devi at Mumbai in 1965. `Sanghamitra' is one of his most successful productions. His compositions were staged in India, Canada, South-East Asia and at the Festival of India in the USSR. Leading Indian classical dancers have choreographed and staged his dance-dramas.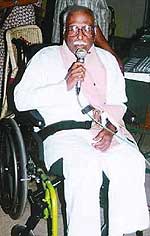 The Late Prof. Dr. V. (Venkateswara) Subramaniam >>
The professor composed both the lyrics and the music for all his 28 dance-dramas. His Sanskrit plays (23) have been published in five books. One of his books narrate the story of Nalagiri Damanam. Prof. Subramaniam also composed five dance-dramas in Tamil. It is said he created history by becoming the first composer on Buddha and Buddhist themes in the idiom of Carnatic music, a fact mentioned by no less an authority than Prof. P. Sambamoorthy.
V. P. Dhananjayan describes him as `a great resourceful person and a scholar par excellence,' and the Narasimhacharis call him an `uttama vaggeyakara.' Details of his works are available with his wife, Jaya, and the Canada-based Lumbini Arts Society.
In 2000, his dream was realised by the release of an audio CD titled `Buddham, Saranam Gachchami' rendered by Priya Sisters. His book, `The Sacred and the Secular in India's Performing Arts,' talks about public administration and the arts. Although confined to a wheelchair in the months before his demise, he was intensely involved in a mega project on the `Socio-historical study of cultural transmission of Dance & Music in different parts of India.'
It was destiny that brought him back to the land of the Buddha and Sankara and he passed away on Buddha Poornima Day.