From nature lover to Buddhist priest · Shelley Fisher
By Tim Hauserman, Tahoe Weekly, July 27, 2016
Lake Tahoe, Nevada (USA) -- The Rev. Shelley Fisher of the Reno Buddhist Center became the first female Buddhist priest in Nevada when she was ordained in Japan in March 2015.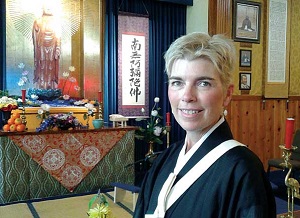 << The Revs. Shelley Fisher
She was joined in the traditional Tokudo Shin Buddhist ceremony by her husband the Rev. Matthew Fisher. It was the culmination of her spiritual journey that began when she moved to Olympic Valley at the age 11.
When her parents moved to the mountains to run a tennis camp, she would spend her free time wandering Shirley Canyon or playing in the Olympic Valley meadow.
"That was my spiritual connection into the world growing up. Buddhism is a very natural down-to-earth religion. Squaw Valley opened up my reception to being Buddhist," says Shelley.
"That was my spiritual connection into the world growing up. Buddhism is a very natural down-to-earth religion. Squaw Valley opened up my reception to being Buddhist."
When her parents divorced, Fisher stayed on in Olympic Valley with her mother, Alice Chaney, who taught for a number of years at Tahoe Lake Elementary and North Tahoe High schools. After Fisher graduated from Truckee High School, she attended University of California, Davis, obtaining a degree in international relations while also taking courses in religion. She next began a 10-year stint in the insurance business in the Bay Area, but she never felt it was where she belonged.
She met Matthew at the age of 11. He was a boy building a mud dam in Squaw Creek and she decided to help him. They dated in high school, but found their separate paths in college. He ended up traveling extensively, studying Buddhism.
The couple came together again several years after college when Matthew was studying industrial design at California State University, San Jose. They married in 1988 and have two children, Will and Katie.
"We really didn't want to raise our children in the Bay Area," she said. So she found freelance work and he found work in industrial design in Reno where they began a new life.
A part of that new life was finding the Reno Buddhist Center. "We started attending the temple and became more and more involved," says Fisher.
In 2008, temple master Rev. Dr. Daigan Lee Matsunaga appointed her as assistant priest. "He put me in charge of the children's program," she says. A few years later Matthew was also appointed assistant priest before the temple master passed away in 2010.
"He didn't leave a plan, so we stepped up to keep it going," she says. However, to say she kept it going is an example of the humility of this hard-working community member. The couple has grown the center from about 30 members — when they took over six years ago — to 120 members today.
"They are a courageous husband and wife team that have given so much of themselves," says Ed Lemons, a Reno trial lawyer and 10-year member of the RBC. "They give completely to the RBC community. When the founder passed away in 2010, it wasn't clear it would have survived. It would not have without them."
"I think people are searching for peace and joy in their lives," Shelley explains. "They want to find a community where they belong. We have different classes for people to take, including sutra study classes, book group and chanting, as well as Sunday services."
They also opened a pop-up restaurant at the RBC they call the Moon Rabbit Cafe where family-style meals with a theme are provided on a donation basis to the community on a monthly basis. "We get a guest chef and 30 to 40 volunteers to help. The response has been so positive and wonderful," she says.
Fisher holds a third-degree black belt in aikido. In addition to being an accomplished practitioner, she teaches aikido; all four members of the family have been practicing for 14 years. "Aikido is the way of peace, using energy to neutralize negativity. It is beautiful and fun. It helps you find calm and peace over yourself," she says.
While Fisher is quick to mention that she and Matthew are a team, he lauds her accomplishments.
"Shelley is the heart of the center. She works with the kids and has retained that innocence and purity of character that kids really respond to. It all comes to her caring and compassion," he says. "She cares deeply for every person that comes through the door."
Lemons agrees: "She lifts people up. Doing what she is doing now is what she was destined to do."
------------------
The Reno Buddhist Cente
r is located at 820 Plumas St. in Reno, Nev. For more information, call (775) 525-1182 or visit renobuddhistcenter.org.