Why I became a Buddhist nun
By Ven. Thubten Chokyi, Presented by Kimberly Gillan, SBS, Jan 31, 2017
After 49 colourful years working in theatre and academia, Venerable Thubten Chokyi became a Buddhist nun so she could devote the rest of her life to the service of others. This is her story.

New South Wales, Australia -- I grew up a Catholic and considered becoming a Catholic nun but ended up pursuing theatre instead, because I always loved singing and dancing.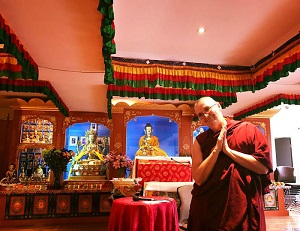 << "I am a feminist and recognise that in Buddhism, we still have a bit of a way to go [on gender equality]."
Over the years, I moved away from Catholicism in adulthood and started looking into contemplative traditions, including Hinduism and Sufism, but it was Buddhism that I was really taken with. I became a Buddhist when I was in my 30s and continued with my singing and dancing, plus teaching Aboriginal Studies at the University of NSW.
But as time went on, it became more evident to me that I wanted to take an oath and become ordained as a Buddhist nun.
I wanted to be more focused on the spiritual path and not get caught up in other things, such as socialising. I had a sense of wanting to devote myself to others and get some deeper meaning in life.
So in my 40s, I spoke to my lama (teacher) to request ordination and he agreed that it was clear it was the path for me. I did a course to prepare for ordination and moved into the Vajrayana Institute in Ashfield NSW, where I still live today, and was fully ordained when I was 49 years old.
I was ready to let go of fashions and hairstyles – it saves a lot of time when you don't worry about what you're wearing. Becoming a nun also means taking a vow of no singing, dancing or romantic relationships ­– the idea is that it allows you to conserve your energies for your purpose and why you ordained in the first place. In my experience, life without physical intimacy makes you much more available to others.
Sometimes, I wish I had been ordained earlier – it's a much richer existence than I ever anticipated ­­– but I wasn't ready back then.
Could becoming a part-time Buddhist help you have a more peaceful year?
You don't have to shave your head or don a red robe to achieve inner peace and calm, says Buddhist nun Robina Courtin. Just practice the Buddhist techniques of mindfulness and be open to the lifestyle elements associated with the faith.
A day in my life
My days are busy. I start with morning practices and prayers and most of the rest of the day is spent teaching, giving advice or doing admin in my role as the spiritual program coordinator at the Vajrayana Institute and the International Director of the Liberation Prison Project.
I also go and visit prisons to lead meditations and teaching. I admire these prisoners – most of them have had tough or difficult backgrounds and for them to say, 'I've got two years in here so you've got to help me turn my life around', I think is brilliant. If I had a hat, I'd take it off to them.
As a Buddhist nun, we still feel the pressures of modern society, but we work on cultivating positive states of mind. I'm human and I have normal reactions, but I try to minimise the disturbing emotions to work on peace in my own mind with the idea that it will lead to peace in the world.
I am a feminist and recognise that in Buddhism, we still have a bit of a way to go [on gender equality]. I always say that the nuns work a lot harder [than the monks] and there are still differences in terms of ritual practices.
There is a misconception that people ask me about that Buddhists believe enlightened people are reincarnated as men, however this is not what Buddha taught. There are many female Buddhas and ultimately, if you have got a mind, you can become enlightened – whether you're a male or female makes no difference.
I've never received any negative comments from the general public about my choice to be ordained; if anything, I find people are curious or indifferent or excited.
I've learned to allow more time when I go to the shops in case people want to ask me something – I can't just go, 'really, I don't have time for this'.
I once had a car full of guys wind down the window and call out, 'hey Dalai Lama!' and I think, 'fantastic – if I remind you of the Dalai Lama, I'm very happy'.