Gelek Rimpoche's Cremation & Relic Ceremony with Kyabje Demo Rinpoche
The Buddhist Channel, Feb 18, 2017
Ann Arbor, Michigan (USA) -- Gelek Rimpoche, founder and spiritual director of Jewel Heart International passed away Wednesday at 6 am. He was 77. Rimpoche was a lama in the Gelugpa school of Tibetan Vajrayana Buddhism and author of "Good Life, Good Death".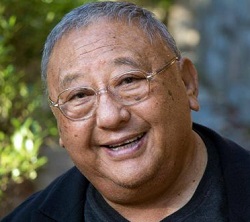 The following is an announcement of the funeral arrangements obtained from the
Jewel Heart
website.
The arrangements for Gelek Rimpoche's cremation and the returning back and blessing of his relics are as follows:
Saturday, February 18, 9 am EST: Cremation
The Jewel Heart Ann Arbor Center will be open for prayers from 9 am onwards. Everyone is welcome: 1129 Oak Valley Drive, Ann Arbor, MI 48108
For those who wish to attend the cremation, space and parking is very limited, but you are welcome to stop by for 5 - 10 minutes between 9:00 am and 11:30 am
Location: Santeiu Vaults, 12700 Fairlane Street, Livonia, MI 48150 (approx. 45 minutes from Ann Arbor). For those who are in town, you may bring an offering scarf or flowers
4.00 pm EST Relic Blessing Ceremony - conducted by monks of Gyütö monastery and Drepung Loseling monastery.
The Blessing Ceremony will be available via webinar.
All the rituals will be led by Kyabje Demo Rinpoche.
For more information please visit:
http://j.mp/GelekCremation
About Gelek Rimpoche
Born in Lhasa, Tibet, in 1939, Kyabje Gelek Rimpoche was recognized as an incarnate lama at the age of four. Carefully tutored from an early age by some of Tibet's greatest living masters, Rimpoche gained renown for his powers of memory, intellectual judgment and penetrating insight.
Among the last generation of lamas educated in Drepung Monastery before the Communist Chinese invasion of Tibet, Gelek Rimpoche was forced to flee to India in 1959. He later edited and printed over 170 volumes of rare Tibetan manuscripts that would have otherwise been lost to humanity. Rimpoche was also instrumental in forming organizations that would share the great wisdom of Tibet with the outside world. In this and other ways, he has played a crucial role in the survival of Tibetan Buddhism.
In 1988, Rimpoche founded Jewel Heart, a Tibetan Buddhist Center. His Collected Works now include over 32 transcripts of his teachings, numerous articles as well as the national bestseller Good Life, Good Death (Riverhead Books 2001) and the Tara Box: Rituals for Protection and Healing from the Female Buddha (New World Library 2004). Rimpoche is a U.S. citizen and had lived in Michigan since the late 80s..