Why I swapped investment banking for Buddhism in Bhutan
Interview by Caroline Eden, The Guardian, Apr 14, 2017
'In Bhutan, humans are not dominant, but a small part of the whole' says Emma Slade on the Himalayan kingdom she regards as her spiritual paradise

Timphu, Bhutan -- Bhutan is one of the few places in the world where you can experience unbroken Buddhist culture. Spirituality is embedded in daily life here. I came because I wanted to meet monks and serious retreatants, and witness first hand what it might mean to dedicate your life to spiritual practice as a Buddhist.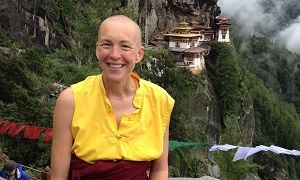 << Emma Slade
Although this is the Himalayas, you don't come to here to climb mountains. Mountains are sacred in Bhutan, as are rivers and the earth. The relationship between nature, animals and people is unique. The population is small (around 750,000) but the power of the mountains and nature is enormous.
This puts humans in their place: we are not dominant, but a small part of the whole. Respect for nature here is not just lip-service, you see it in action every day. If you want to build a house, you have to ask permission of the earth, and the government ensures that the country maintains 60% forest coverage. You'll see prayer flags on mountains and on bridges, from where the wind carries the prayers across the country.
You don't have to tip your head back to look at the sky; you can stare straight at it. For me, the finest view in Bhutan is from 3,100 metre Dochu-la. From this mountain pass I can admire the view, look directly at the sky, and see the stairs to my lama's temple. I especially like the way the stability and serenity of the mountains contrasts with the clouds moving high above.
Make a point of meeting monks if you go to Bhutan. Visitors tend to emphasise the wow factor of the buildings, and miss the human element. Real Buddhist culture, and what it means in daily life, is in the people.
Nobody really comes to Bhutan for the food but there are surprises. Down south there are small tasty bananas, and oranges at lower altitudes. Rule number one is to watch out for the chillies. They look photogenic while drying on slatted roofs, but they are intensely fiery. They're generously sprinkled into a dish called ema datsi, which is red rice with chillies and melted cheese. There are lots of types of tea – sweet tea, butter tea and milk tea. As an ordained nun, I don't drink alcohol, but locals drink a strong home brew called ara made from maize and potatoes. In the capital, Thimpu, try Central Cafe: its fresh beetroot juice is excellent.
In Thimphu, stay at Tashi Yoedling (doubles from £30), right by the Memorial Chorten. From its windows you can watch worshippers walking clockwise around the stupa. For fresh bagels and croissants, it's a half-hour walk to Big Bakery, run by Draktsho, a training institute for young people with special needs.
Don't miss the ancient capital, Punakha. Its stunning dzong (fortified monastery) sits at the convergence of two rivers, the male Pho Chhu and the female Mo Chhu.Eastern Bhutan is far less visited than the west, with amazing trekking around the semi-nomadic villages of Merak. In Paro, west of Thimphu, there's a very small three-tiered circular temple called Dungtse Lhakhang. It's the only one of its kind and wonderfully quiet. There's no electricity, so take a torch.
Most visitors come in autumn or spring, when the views are best and the weather is dry, but come off peak for a quieter, more reflective experience. Winter is not depressing and grey; it's all about fresh, clean, sharp air and beautiful blue skies. If you don't like Christmas, consider Bhutan: there's really no trace of it.