A Buddhist Leader on China's Spiritual Needs
By IAN JOHNSON and ADAM WU JUNE, The New York Times, June 24, 2017
YIXING, China -- During a visit last fall to the Temple of Great Awakening, the sprawling complex built by the Buddhist organization Fo Guang Shan in Yixing, we were greeted by an unexpected host: the Venerable Master Hsing Yun, the group's founder and one of modern China's most prominent religious figures.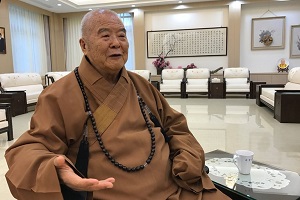 << The Venerable Master Hsing Yun, the founder of Fo Guang Shan, last October in Yixing. "We respect the leadership, ethics and rule of law," he said. Credit Ian Johnson
Master Hsing Yun established Fo Guang Shan, or Buddha's Light Mountain, in Taiwan. But he was visiting mainland China to attend a ceremony and had stopped by the temple to inspect the construction of a new hall. At 89, he is mostly blind and suffers from diabetes, but he spoke with us for more than an hour, adeptly responding to questions that the authorities might find objectionable, including any suggestion that Fo Guang Shan is proselytizing in mainland China. Here is an edited excerpt from our conversation:
What are the goals of Fo Guang Shan in promoting Buddhism in mainland China?
I don't want to promote Buddhism! I only promote Chinese culture to cleanse humanity.
What are the spiritual needs of ordinary Chinese people nowadays? How can Fo Guang Shan satisfy their spiritual needs?
I offer people what they want. I think, in the secular world, they want money and love. But they also need peace, safety and happiness. In this regard I offer them encouragement, truth and transcendence. By influencing them, I make them relieved both physically and mentally, unrestrained and stable.
Does the mainland leadership support your work?
I support the leadership. They care for us as well. It is mutual. We Buddhists uphold whomever is in charge. Buddhists don't get involved in politics. But we respect the leadership, ethics and rule of law.
After the Cultural Revolution, Buddhism in China was severely damaged. The new generation of Buddhists lacks talent, education and role models. I encourage fellow Buddhists to strive for kindness.
Are you satisfied with Fo Guang Shan's development in the mainland?
The mainland is gradually making progress. There are some restrictions on religion. But I have also felt their kindness. They help us to restore temples in the mainland.
When I give speeches in the mainland, I don't feel any restrictions. There are always thousands, sometimes tens of thousands of people listening to me speak. They never stop them. I also have many undertakings, and they never say no to me. The People's Publishing House even publishes my books. I think they know that I acknowledge Chinese culture, especially Buddhism in Chinese culture.
Chinese believe in karma, which contributes to stabilizing society, rebuilding moral ethics and building people's confidence. We are here to strengthen it to inspire our compatriots.
What do lay Buddhists in the mainland need the most?
Lay Buddhists most need Buddhist doctrine and a relieved mind. Society is rife with superstition and cults. Fewer people believe in real Buddhism. Real Buddhism is about mercy, wisdom and dissolving confrontation.

Is Taiwan part of China?
President Xi said Taiwan and the mainland belong to the same family. I think the entire human race should love, respect and tolerate each other. The government here gives us land without asking for money. They send people to water the plants for us. I hope the government can treat people fairly like this.