Sogyal Rinpoche steps down as head of Rigpa after allegations
Tibet Sun Newsroom, 15 August 2017
McLEOD GANJ, India -- Following allegations that abuses were committed on his students, Sogyal Rinpoche, Buddhist teacher and author, has decided to step down with immediate effect as the head of Rigpa, a network of Buddhist learning centres around the world.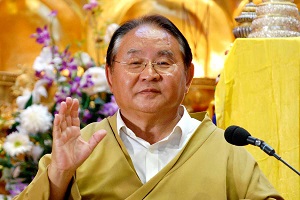 << Sogyal Rinpoche in an undated file photo. Photographer unknown
Rinpoche (a Buddhist title meaning "the precious one" in Tibetan) has been charged with sexual abuse of his students, as well as leading a lavish, gluttonous, and sybaritic lifestyle, by current and ex-members of Rigpa in a letter dated 14 July 2017 [
Letter-to-Sogyal-Lakar-14-06-2017-.pdf
].
Some days after the release of the letter, Rigpa announced that the 70-year-old Rinpoche would "step back" and would go on retreat.
The Dalai Lama addressed the Sogyal Rinpoche issue[video] during a talk in Ladakh on 1 August, saying "Sogyal Rinpoche, my very good friend, but he's disgraced. Some of his own students have now made public their criticism."
He said that when teachers commit misconduct and disregard Buddhist teachings, students should make public their actions. He pointed out that although these lamas have showed they don't care about Buddha's teaching, they may care about their face.
The Rigpa organisation then issued another press release on 11 August which said, "After internal consultation, Sogyal Rinpoche has decided, with immediate effect, to retire as spiritual director from all the organizations that bear the name of Rigpa in different countries around the world."
Detailing abuses allegedly committed by Sogyal Rinpoche, the letter said,
"If your striking and punching us and others, and having sex with your students and married women, and funding your sybaritic lifestyle with students' donations, is actually the ethical and compassionate behaviour of a Buddhist teacher, please explain to us how it is.

"If, however, we are correct in our assessment, please stop your behaviours that we believe to be harmful to others."

Those who signed the letter expressed their hope that long-lasting and sincere changes would come about rather than short-lived pledges.

In 1994, a female student filed a $10-million civil lawsuit against Sogyal Rinpoche. It was alleged that he had used his position as a spiritual leader to induce the student to have sexual relations with him. The lawsuit was settled out of court.

Rigpa is an international network of centres and groups in 41 countries around the world, founded by Sogyal Rinpoche in 1979.

Sogyal Rinpoche is best known for his book: The Tibetan Book of Living and Dying, published in 1992. It has been translated in 30 languages since then."